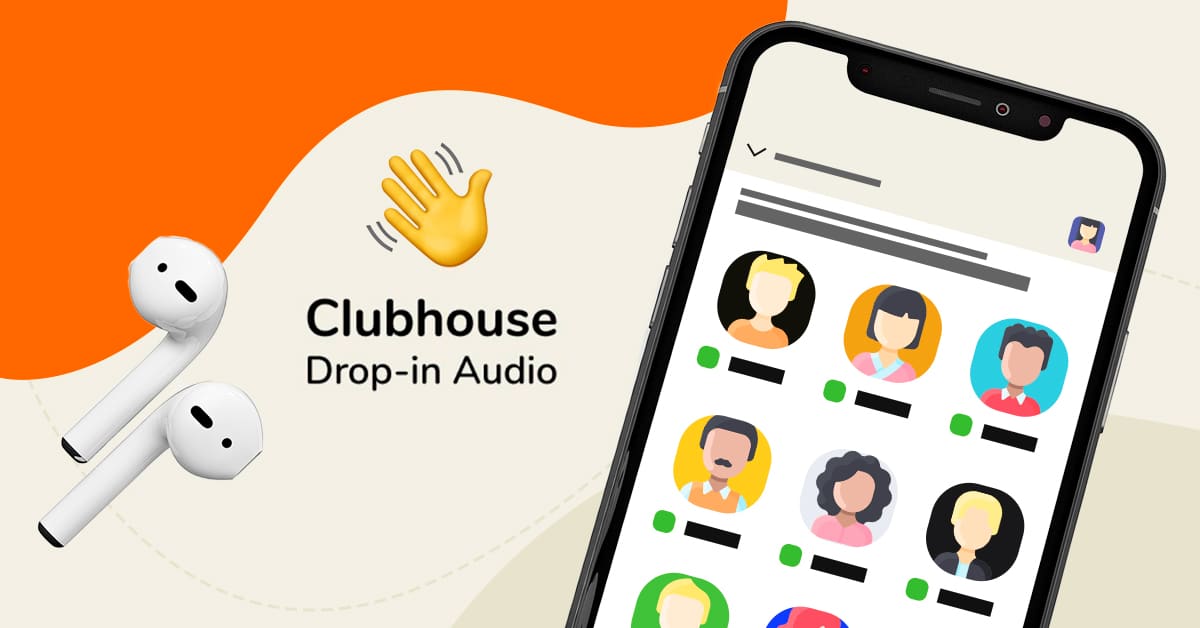 Clubhouse,how to use the trending social network in your marketing strategy
The Clubhouse app has recently landed in Spain, although it was officially launched in April 2020 in the US. In the era of video, the audio social network has achieved rapid growth in a short time. With more than 6 million registered users (in December 2020 there were only 6,000), the free app is already worth 1 billion dollars.
In the age of video, audio is generating more and more interest. Podcasts and audiobooks are already featured content on Spotify, and even Netflix is considering creating audio-only content. Audio also seems to be the future of social networking, as evidenced by the rapid success of Clubhouse and Twitter's testing of Spaces.
But what is Clubhouse, how does it work and how can we make use of it in our marketing strategy?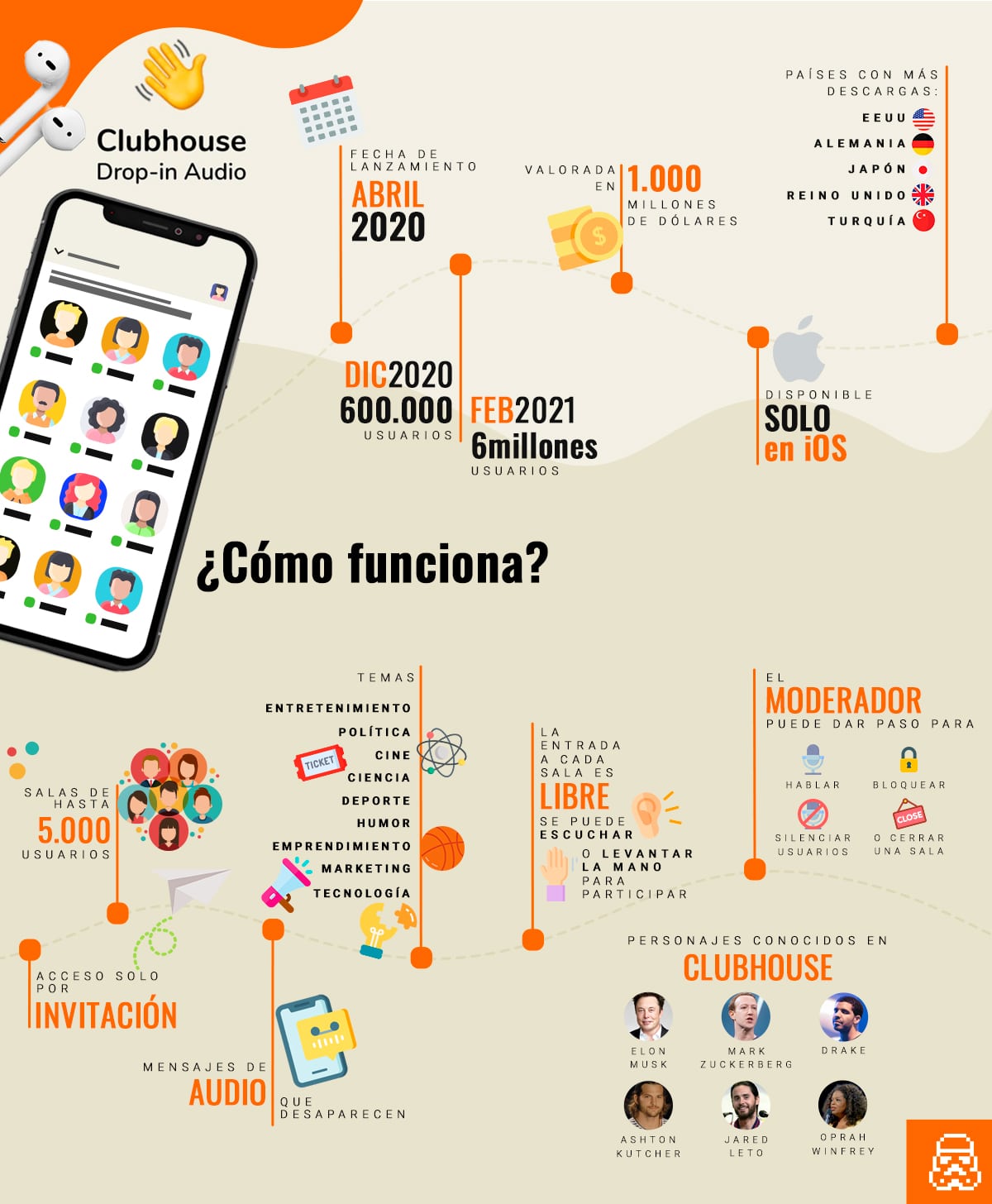 What is Clubhouse?
The creators of Clubhouse define it as a live audio chat that functions as a social network organised in rooms on all kinds of topics. Users are free to join and participate, but they can also just listen. There is no text, photos, videos, gifs, emojis or memes.
Besides, messages disappear, as do stories, which has led China to block the social network in the country, as, by leaving no trace of the conversations, users were using it to talk about the government and political issues.
What do they talk about at Clubhouse? There are rooms about entertainment, cinema, videogames, politics, television, entrepreneurship and, of course, marketing. If you search for a topic you will find different rooms (there are still many more rooms in English than in Spanish), where you can enter to listen or participate. All you have to do is "raise your hand" and wait for the moderator to give you the floor. Of course, from 10 p.m. onwards, the topics of conversation become much more relaxed and, warning! It is "forbidden" to talk about technology.
How does Clubhouse work?
It works as simply as a group conference, but there can be up to 5,000 users in one room! Does that sound impossible? Recently Elon Musk, the tycoon and founder of Tesla, announced that he would be speaking at Clubhouse, the room reached a maximum of 5,000 users and generated a black market for invitations that sold for more than 100 dollars.
Otherwise, it is similar to any social network. Each user has followers and follows others. A magnifying glass icon allows you to search for contacts and topics, and a bell informs you of the activity of the users you follow. Administrators in each room have moderation tools that allow you to block, mute or close a room.
For now, the app is only compatible with iOS, but it is expected to be available on Android devices in the near future. Moreover, it works exactly like a club. In other words, you need an invitation to join. Each new user has two invitations and, as they participate in different rooms and interact with the social network, they get more invitations. The goal, in addition to generating interest and a sense of exclusivity (which it has undoubtedly achieved), is to be able to grow in an orderly fashion and not "die of success".
If you have not yet received one of the precious invitations, we recommend that you pre-register on the waiting list to receive a code. This way, if someone knows you, they can accept you. And, above all, this will allow you to register your brand name in time, to prevent someone else from getting it before you.
How to use Clubhouse in your marketing strategy?
Have we convinced you that not just you, but also your company or brand should be on Clubhouse ASAP? Then here are some useful tips to increase your community of followers:
Inform your customers and other users that you are already on Clubhouseand the topics you are going to talk about. You can use the rest of the media channels that you already have. Publish it on the blog, send a newsletter to your subscribers and spread it on other social networks.
Create rooms with interesting topics and offer valuable content regularly Make sure it is on the same day and at the same time, like a podcast or a radio programme, so that loyal users know that they should always reserve that time to interact with your content. There are not many rooms in Spanish yet, but the social network is growing rapidly, and competition will soon be fierce. That's why it's important to position your rooms among the favourites as soon as possible. If you manage to do so, the application itself will show them in the suggestions and, this way, more users will find you easily and will start following you.
Connect your content to current events and trends and generate interesting and engaging content. If you only use Clubhouse to self-promote your product or service, users will quickly lose interest.
Take the opportunity to connect with potential customers or partners. The great value of the Clubhouse is the interaction that takes place between all the users in a room. Invite people who interest you to participate as speakers and get feedback from your customers by asking them to give their opinion about your brand.
Explore the value of influencers.Even though it is a new social network, billionaire Elon Musk, actors Ashton Kutcher and Jared Leto, and presenter Oprah Winfrey, among others, are already on Clubhouse. In Spain, marketing and entertainment influencers have also joined, invite them to participate in interviews or debates and you will attract more followers.
The following two tabs change content below.
Latest posts by Belén Sánchez (see all)