Essential marketing extensions
The best ideas have come about when someone said, "There has to be an easier way to do this."  We have based this article on that concept in order to look for Chrome extensions that every marketing professional needs in their life to make things a little easier.
It doesn't matter if you're in SEO, a designer, or a community manager,-  these extensions are used universally.  Except the ones at the end.  We don't recommend those if you want to continue being a productive worker.
Extensions for Gmail
Let's begin with a classic:  Google Mail Checker.  Basically, it lets you see the number of messages in your inbox without opening your Gmail inbox.  So, you can be up to date on whether someone sent you an email while you were working in other windows.  Within the Google suite, the extensions for Google Calendar, Google Translate, and Google Dictionary will make your life a little bit easier.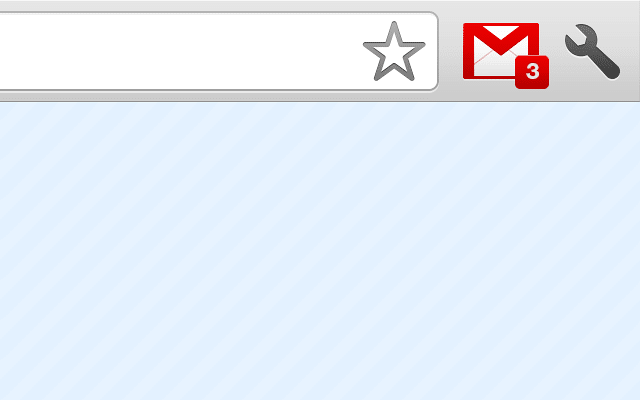 And since we're talking about Gmail, Boomerang will be like a gift in terms of organizing your inbox and making you more productive.  In the first place, you can write your messages and schedule them to be sent whenever you want, even if you're not connected.  And, it will make easier to follow up if a certain amount of time has passed and your message has been  overlooked.
Another great function is giving a name to the extension.  If you get messages that you can't deal with at that particular moment, send it to Boomerang so that it will come back at the top of your inbox later on.  This can be very helpful in times of high stress and overflowing inboxes.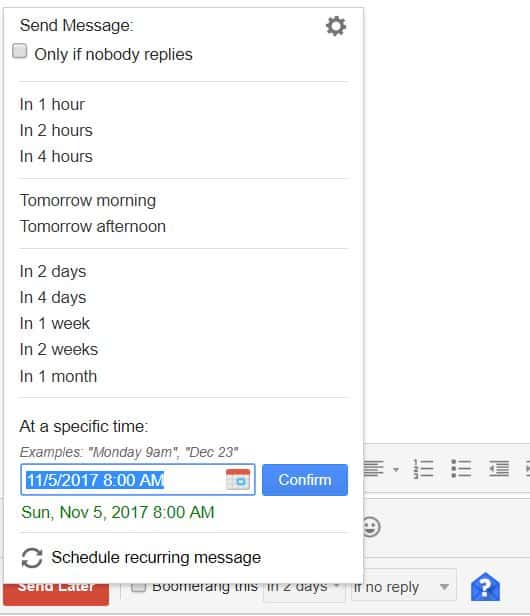 MailTag is another interesting tool: It tells you if your email has been read and how long was spent reading it.  The negative?  The free version comes with a watermark.
Extensions for tabs
Have you ever been surprised at the number of tabs you have open? Well, this section is for you. And for your computer, because you surely also complain about all the memory occupied by your research and the open excel files.
The Great Suspender is there to lighten the load of your PC. What it does is 'suspend' tabs after a certain amount of time has passed, which you can configure. The tab is still present in Chrome but the content is not loaded and does not use memory.
Tabagotchi will help with this addiction to millions of open tabs. It's an adorable virtual pet whose health depends on not having too many tabs open. Will you let him die?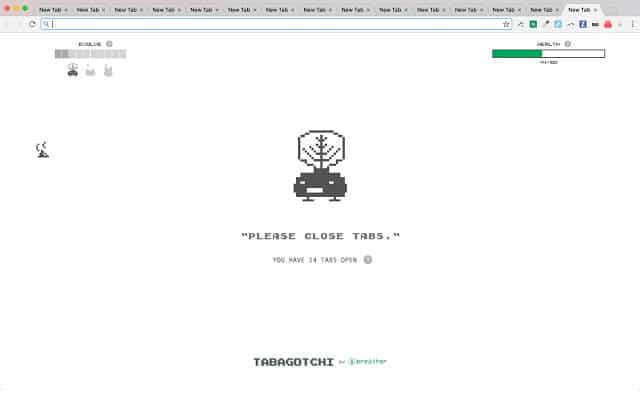 Another typical case in your day to day is that you are working on something and another issue of higher priority arises. What do you do with those tabs that you've been working with? Do you add them to markers? No, join them together with OneTab and open all of them again when you have time.
Let's say you haven't been able to overcome your addiction to tabs. Tab for a Cause will make you feel good by opening as many as you want. Each new tab that you open will have an ad and for each one you open you'll receive a heart. These hearts represent advertising revenue, and you can accumulate them to raise money and donate it to the organization of your choice (within the platform).
Other extensions which you can't miss
Maybe the biggest problem that we face as 'marketers' are the passwords. Gone are the days of having just one or two. Now they force you to use numbers, capital letters, emoticons and kanjis. And of course, all this without repeating the previous one. LastPass is our solution here. With a master password you can manage all of them, like a unique ring. It completes the logins for you and synchronizes between devices.  
Another tool for the day to day of the marketing professional is 'Cuttings'. Awesome Screenshot, with one of the most descriptive titles, expands the possibilities when making screenshots.  You can share what you see on the screen, add comments and blur information and best of all, make video captures.  
If you work with international clients in different time zones, it is always a problem to arrange calls and meetings. Figure It Out helps compare up to 10 time zones, also indicating regional holidays.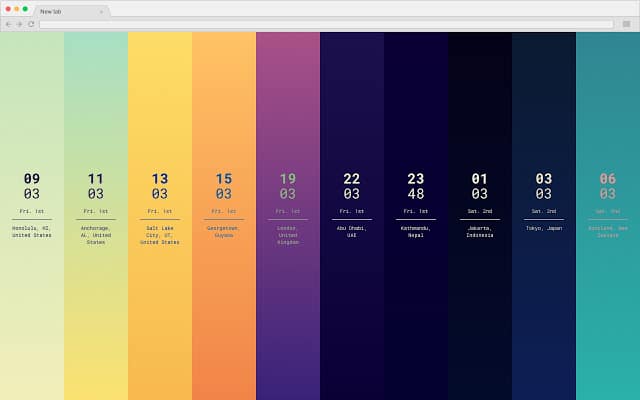 Print Friendly & PDF will transform the website you want into an optimized PDF, eliminating ads and the parts that don't interest you. If you don't have a constant internet connection, it will be very useful to be able to save the page in a PDF and view it at any time. In addition, you can set the font size and easily print it, if you prefer to have a hard copy and read the articles in the subway.
Although we're straying a bit from the work theme here, Honey can help us save a lot of money. How? By detecting if there are coupons available when shopping on e-commerce sites like Amazon and several clothing stores. Above all, you don't have to do anything, because it automatically applies it when you go to buy!  If this causes you to go into a buying spiral … use Sloth Work to be aware of how much money you could be earning … and StayFocused to block sites that distract you too much.
7 Extensions which are absolutely not essential
Kardashian Blocker – Okay, THIS is the most descriptive title.
Downworthy – Transform clickbait titles like "Absolutely" in "Moderately" or "Won the Internet" in "Seemed Pretty Cool"
Jailbreak the Patriarchy – Change the gender of the words. For example, "he loved his mother very much" would be "she loved her father very much".
nCage – Do you think the internet is missing Nicolas Cage? This extension changes all the images to photographs of the actor. You're welcome.
Nothing
Cenafy – At any time John Cena can interrupt your work. Perfect to install on other computers. You can see how it works here.
Trump Reactions – Replaces the 'Facebook Reactions' with Donald Trump faces.
And what about you?  Do you have an extension which you MUST have in order to work?  Let us know about it here,  in the comments section.
The following two tabs change content below.
Me mola eso de las redes sociales.
Latest posts by Sergio de la Cueva (see all)