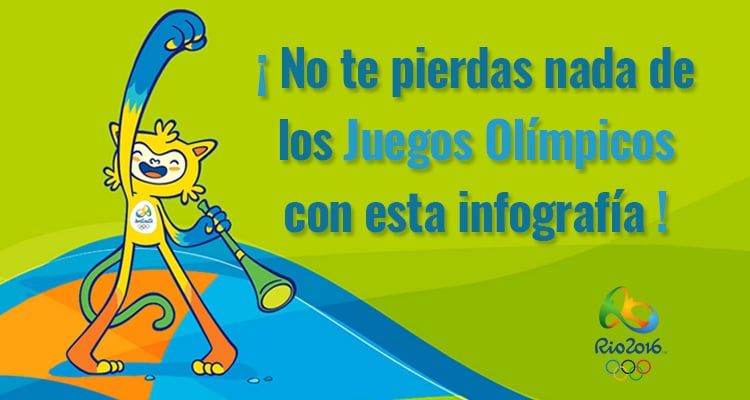 Get ready for the Olympics with this infographics
We have been waiting four years and finally they are here: on August, 5th, the Olympic Games Rio 2016 are officially declared open. They will last for as long as 17 days.
4 regions, 32 venues and more than 15,000 athletes are already in Brazil ready to compete for the gold, silver and bronze medals from the 302 events of the 42 sports played in this edition. A novelty is that Rio 2016 will host golf and rugby.
Too much data for 17 days, right? With this in mind we have prepared this infographics so that you do not miss anything going on during this edition of the Olympics. You can check out funny data about the Olympics and the venues.
We have also included information and videos about all the sports that are played; you may not know what some of them consist of.
And of course, the Olympics would mean nothing without a pet: there's is Vinicius. Don't you know it yet? We have a lot of information about him in our infographics.
We also know that today no event goes by without its corresponding application so that neither heavy fans nor starters miss any sport. We have compiled the 5 best apps to download in your mobile phone for keeping track of everything going on in Rio.
The Olympics host so many sports that we always mess up with the gold medals that our country has won, or what position our country is in the world ranking. But this year it will be so easy! At the end of the infographics you will see a medal table, updated with all the medals from the different countries.
Have a look at this infographics so that you do not miss a thing during this edition of the Olympics. If not, you might as well wait another four years ;).
The following two tabs change content below.
Latest posts by Redacción (see all)