Google Webmaster Tools Beta update
As you may have realised, Google Webmaster Tools has been updated. Although it is still a beta version, the changes that we can see at first glance are the segmentation of data using different filters and the possibility to make a comparison by search dates similar to that of Google Analytics (keeping just a history of 90 days, like before).
There are new resources that give the possibility to show clicks, impressions, the CTR and the average position. There are also different fields like date, queries, pages, countries, devices and web, images and video searches.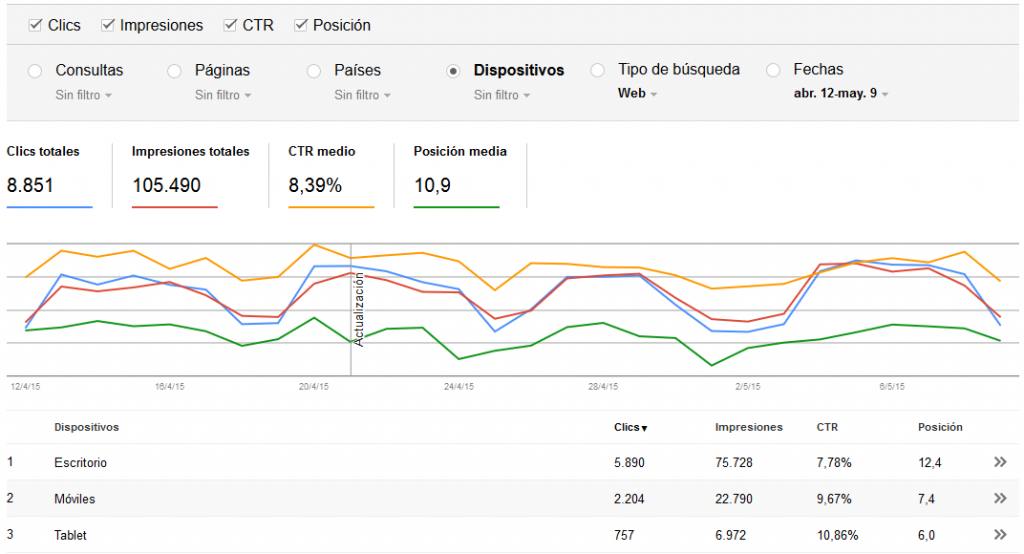 The following screenshot shows how to make a simple comparison between two keywords, applying a couple of segments such as total clicks, impressions for each word, the average CTR and the average position for each word. All this is illustrated with a guiding graph with the data provided.

It is important to highlight that this update changes the impressions, which the most advanced users will have already noticed. If you make a search with the keyword (cheap shoes, in this case) and the SERP of Google lists your site with three different URLs, Google used to count this as 3 impressions. Now it only counts one, so you will probably appreciate a considerable decrease of impressions compared to prior months.
If you think that the impressions have gone down drastically, your only option is to make a comparison between both versions and evaluate flawlessly if the problem lies within the new version. The decrease in impressions normally takes place for brand words, since when you make a search there is normally more than one result:
WMT version Beta:

Old WMT version:


We should also say that this trial version only shows 999 results, whereas the older version above gave us a wider and more detailed estimate of impressions

. We do not know with absolute certainty if this estimation will remain, because we are working with a trial version, so we will have to wait for the new implementations that Google will apply to this free tool.
If you have not got used to the new design of the tool yet, you can work with the older version and the beta version during 90 days. To go back to the traditional version, go to the option that appears on the upper part of the page:


It is not very recommendable to go back to the older version. After all, the updated version will stay in the end, so we advise you to work on the new version offered by Google.
The following two tabs change content below.
Internet República
Somos una agencia de marketing digital especializada en SEO (posicionamiento en buscadores), gestión de reputación online (ORM), marketing de contenidos y Social Media. Ayudamos a darle visibilidad a tu marca en internet para que consigas, no solo atraer a tus potenciales clientes, sino también fidelizarlos.
Latest posts by Internet República (see all)