How to deliver your brand ID on social networks
However little worked and forsaken it is, brand identity is one of the most powerful marketing tools.
On the other hand, social networks are as compulsory of a tool as effective to show the public your real self: What does the organization represent, who it is or who it wants to be. The organization has to be as transparent as possible.
A brand is not just the name of a company, its mission, vision and goals. A brand must lead a strong and well defined identity reflected unanimously on all its platforms and resources face to the public.
Before we tell you how to integrate it on your social media strategy, first we will have to assess why should we do it…
Define your brand identity
The first and most important step is to establish a clear, transparent and consistent brand concept. Once we have it, we have to think about the global message that will identify the brand. When the identity is clearly defined, then we jump to personality. This may sound weird, but the more real the brand is, the better it will connect with the consumers, followers, fans or users, and in turn the ties between them will be stronger.
How to reflect it on social media
Now is time to determine the most appropriate way to transmit this identity on the different platforms. Based on our experience, here are some steps.
1.  Related content
With this we mean the content and topics related to personality that we have talked about.
This is… If a lawyer's office posts recipes would seem weird, but even more weird would be that a political party talked about adult content.
Therefore, you should delete all the content that might be considered weird, irrelevant, discriminatory or contradictory.
But watch out… Weird does not always equal bad. Some freaky things are actually very cool.
Ya está disponible la App oficial gratuita de #StarWars para hacernos selfies estilo jedi 🙂 ►http://t.co/4X9EVvAY0g pic.twitter.com/mH3WDUk1Yh

— Internet República (@i_Republica) July 10, 2015
2.  Engage in conversation
An essential feature of the brand is that, when possible, it is considered real. In other words, that the brand is not seen like a company, but a group of people with shared values, personality and interests.
People like to communicate. This is why a brand has to generate conversations that turn around its concept, its field and, of course, users within the target or potential target of the brand.
Encourage your audience to participate, ask for their opinion, make quizzes that your followers can join and value their contents. "What do you think about this?" or "Do you like it?" are some of the resources that work best. It will make them feel closer to your brand and this will enhance your interactivity, engagement and notoriety.
Ask them to ask for.
3.  Act humanely
Remember that we are all human. And we all have a workplace! We will make this clear here, in case there is any doubt…
¿Cuánto decís que queda para las vacaciones? pic.twitter.com/9X5GFU04WQ

— Internet República (@i_Republica) July 17, 2015
Do not be afraid to share personal experiences, on the contrary! Sharing them will help your readers feel identified with you and your brand.
La fuerza no existe, es el café. pic.twitter.com/mFpJv1FHdO

— Internet República (@i_Republica) June 16, 2015
Celebrate holidays too…
Special occasions…
Cómo nos gusta la jornada intensiva… pic.twitter.com/7EGOHVTz5x

— Internet República (@i_Republica) July 15, 2015
Son buenos tiempos para el amor. #LoveWins pic.twitter.com/QwE06cwpOx

— Internet República (@i_Republica) June 29, 2015
And remember to do it on all your platforms.
From Facebook…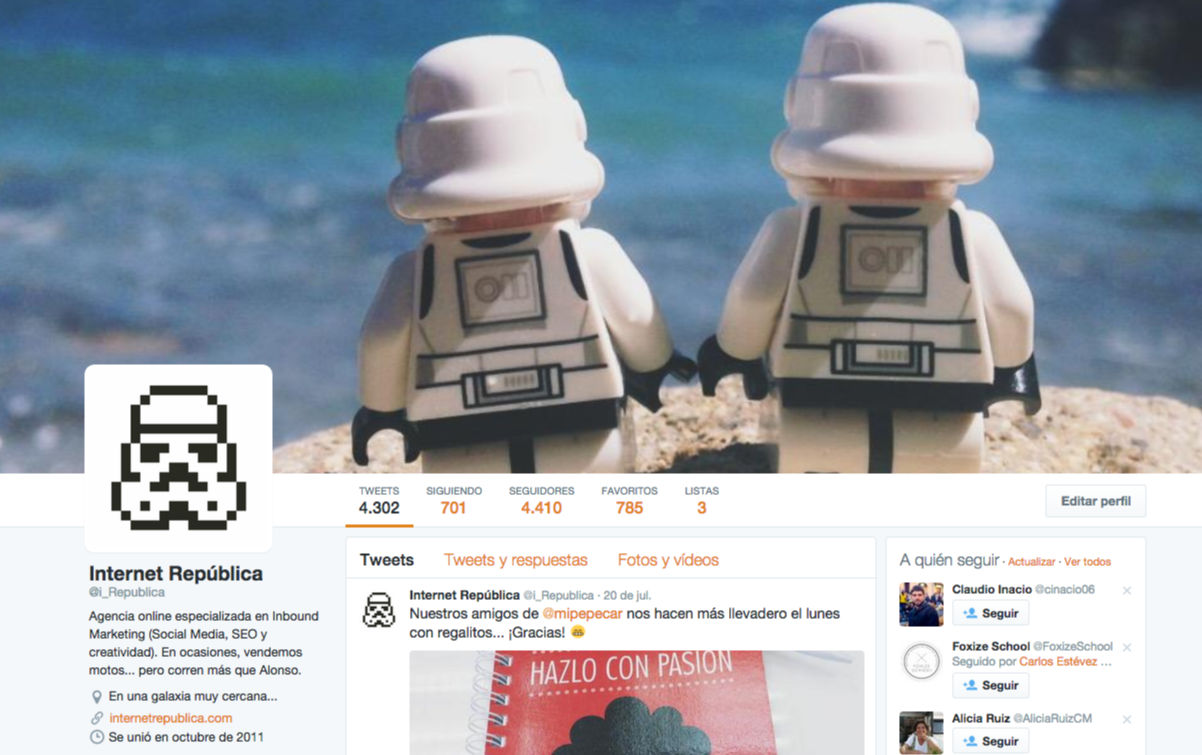 To Instagram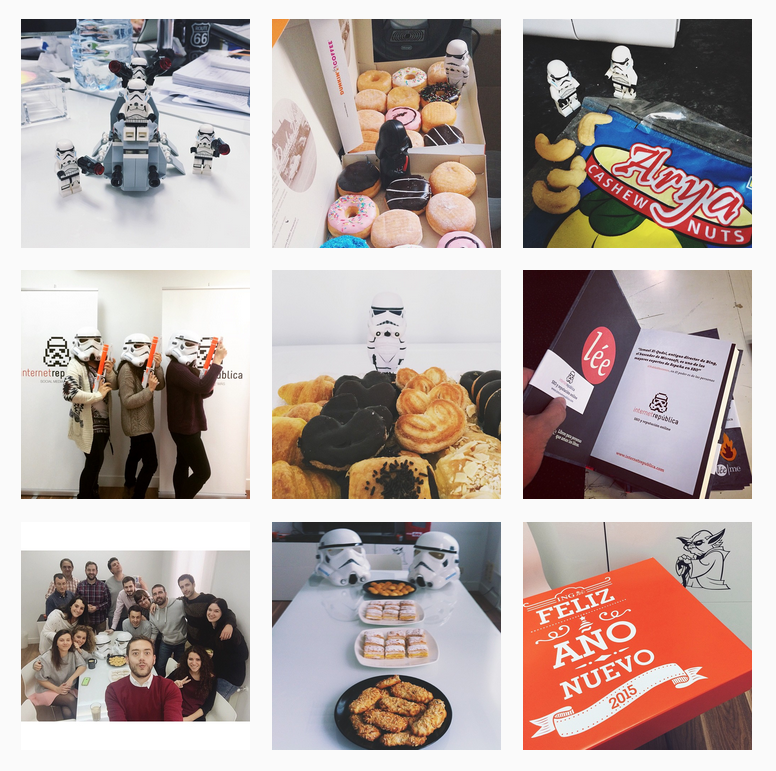 4.  Style and tone
A key in communicating via social media is to keep a consistent style and tone.
We could say that your tone reflects how would we turn something said verbally into words. If it is an exclamation, use "!". If you are asking, make it evident. If you like being descriptive, use emojis, images and videos.
Style is a similar concept that refers to structure and the narrative. Although publications may cover a range of topics, they may all always include links, a mention (@), a hashtag (#) and two emojis 👾.
An example: Every time we post something on our blog, we try to be consistent with the copy we choose. Look at the arrows and the concise and direct sentences.
¿Estás optimizando tu página web? Estos son algunos errores comunes de SEO que debes evitar ► http://t.co/EMRSuKajF9

— Internet República (@i_Republica) July 18, 2015
Las redes sociales son el espejo del alma… ¿Estás transmitiendo bien tu imagen de marca? ► http://t.co/qtyF1TMNtC pic.twitter.com/BUAz1FWdPS

— Internet República (@i_Republica) July 21, 2015
In addition to being appropriate and correlative to the brand in tone and style, they have to be integrated on the different platforms and publications. Why? Because:
It prevents the users getting confused. A consistent tone and style gives more trust, security and it makes the relationship brand-consumer easier.
Installs an interest. Your readers will know what to expect, and if they like it, they will keep coming to you more often.
Strengthens the relationship brand-user.
The following two tabs change content below.
Internet República
Somos una agencia de marketing digital especializada en SEO (posicionamiento en buscadores), gestión de reputación online (ORM), marketing de contenidos y Social Media. Ayudamos a darle visibilidad a tu marca en internet para que consigas, no solo atraer a tus potenciales clientes, sino también fidelizarlos.
Latest posts by Internet República (see all)