How to detect fake followers on Twitter?
In the last post we talked about why it is a bad idea to buy followers. Today we will instruct you on how to identify real Twitter followers from fake followers.
There are many ways to check if the followers of a Twitter profile are real or not. At first glance, the most effective check is to look at the number of followers and compare it with the volume of publications and the interactions they have. In other words, to measure the engagement. Many experts on this field use formulas to calculate the level of engagement of an account, but the truth is that if at first sight we realise that an account has many followers and little activity, most probably a great deal of these will have been purchased.
When you check the followers of an account, look carefully at their pictures. If you see it is flooded with eggs (the default image when you create a Twitter account), the alarm should set off. Many pages that buy followers say the profiles are real, including a name, picture and biography. However, they do not let you choose where should the followers come from. This is the reason why many times we ask ourselves things like: why are there hundreds of American users following the profile of a bookshop in Marbella? Why are there so many Arabic names following a restaurant in San Sebastián? It is not because the business really has such a funny target, but that these followers have been bought.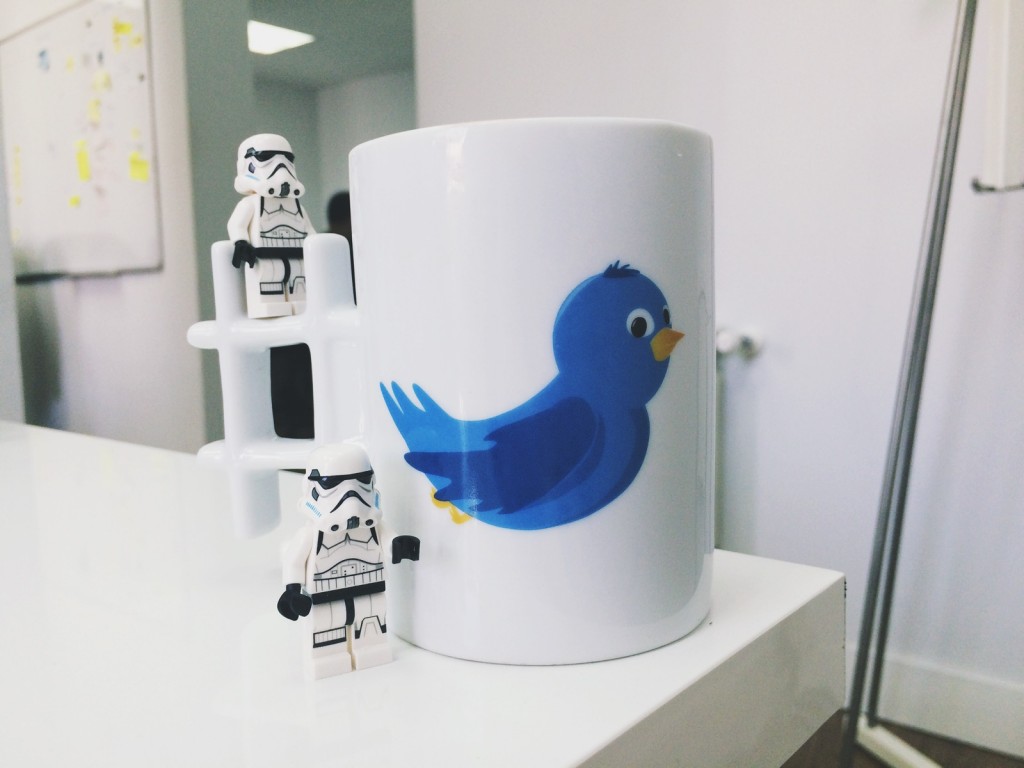 Some brands also choose to buy retweets and favourites. Identifying this practice is easy: if you have a look at their timeline, and you see that one publication has a lot more retweets in comparison to the rest, this is probably a clear case of such a behaviour. Take a look once more to the users that have clicked on favourite or have retweeted: if they match the kind of profile we talked about before, most probably they will be fake.
Tools to detect fake followers
If you prefer to check quickly the quality of your followers, or those of any other account, you can also use online tools.
Free of charge and very easy to use. When linked to your Twitter account, you can analyse your followers or those of any other user. Twitter Audit analyses the number of tweets, the date of the last publication and it compares the amount of followers with the level of interaction. This helps the tool estimate how many followers seem real and how many seem fake.


We must remember that on every account we will find robot followers, abandoned accounts, etc. Which is why we will almost for sure have a small percentage of followers that the tool will match as fake. The problem comes when this figure raises over 30-40%.
Free of charge too but with the possibility to buy a plan. Fakers is from StatusPeople, and this tool goes one step further and divides users into inactive ones and those which the tool thinks are fake. This prevents including your friends that you have on Twitter but hardly ever use it.


The tool also includes statistics about the followers of the account, how many of them are active, what language they speak and how many people they follow on average.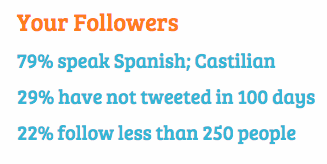 Buying followers saw a boom at the beginning of Twitter, but people soon realised that this technique made no sense and did not improve the figures that really matter, i.e. engagement and conversion. So you'd rather not think about cheating and use that time and effort in what really counts: quality content, a strategy that makes sense, and a great deal of illusion. Time to work!
The following two tabs change content below.
Internet República
Somos una agencia de marketing digital especializada en SEO (posicionamiento en buscadores), gestión de reputación online (ORM), marketing de contenidos y Social Media. Ayudamos a darle visibilidad a tu marca en internet para que consigas, no solo atraer a tus potenciales clientes, sino también fidelizarlos.
Latest posts by Internet República (see all)