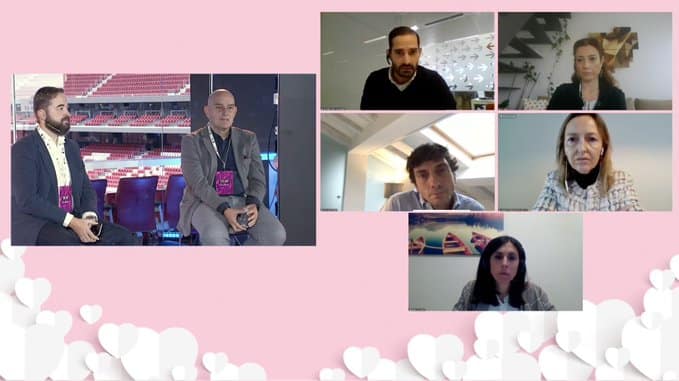 In 2021, we continue falling in love with the consumer
Hello, the community!
At a time of consumer behaviour change with the COVID influence, we wonder, are brands still making consumers fall in love?
On December 10th, we had the opportunity to participate in the appealing event "Falling in love with the consumer" organised by Marketing Directo.
During a whole day of discussions and talks, we were able to share points of view with marketing experts from different agencies and companies. Consumers are still considered fans and the brands should be able to attract them. But how can we do this? What channels should we use now to attract audiences? What strategies should we follow?
At the "Broken Hearts" table hosted by Carlos Estévez, Director of Operations at Internet República, some of these questions were answered from the perspective and experience of Miguel Justribó, from Telepizza; Laura Mur, from Codorníu; Gonzalo Saiz, from Bankinter; Ramiro Sánchez, from Google; Natacha Lerma, from Toluna; and Valeria Conti, from Procter & Gamble.
This video shows the round table of the debate, and in this post, we wanted to introduce the most curious issues discussed. Take note for your next strategies and campaigns!
Getting to know our audiences
One of the main challenges for brands is to know who their consumers are and how their preferences have changed. Carlos Estévez asked the speakers what strategies they are putting into practice to know their target audience better.
For Miguel Justribó, the important thing is to continue to listen carefully and continuously to the society and be attentive about their reaction, to continue adapting the strategies to their needs. Gonzalo Saiz, from Bankinter, stressed the need to be more authentic than ever in what is said and done, which is what consumers demand the most now.
Concerning the strategies for understanding these audiences better and the changes that companies had to make in response to the European regulation of cookies, Ramiro Sánchez, from Google, stressed that it is necessary to continue advancing in a technological transformation and advertising laws that allow us to continue learning the interests of the target audiences, yet remain transparent and respectful to the users. Companies need to think more about the concept of omnichannel strategy to understand the user's intentions and the interactions that take place until the buying process is over. The process is much more difficult, but the results are also much more satisfactory for both parties.
The power of influencers
Regarding influencer marketing as one of the increasingly prominent channels within global strategies, Laura Mur of Codorníu confirmed the effectiveness of influencers, especially as brand ambassadors, a strategy they have been using for several years, but which in 2020 has become even more important. At this point, Mur stressed the importance of influencer segmentation and the need to adapt messages to each type of influencer. He also wanted to highlight the effectiveness of micro-influencers, as they are achieving better results than macro-influencers for certain strategies.
Natacha Lerma, from Toluna, pointed out that the results of the emotion and consumer behaviour can confirm that the use of social network channels and influencers has increased, strongly affecting the perception of consumers at both a commercial and communication level. For Ramiro Sánchez from Google, influencers must be credible for this strategy to work.
All the speakers agreed on the importance of not separating branding actions from sales actions, so that all communications pursue both objectives, always transmitting confidence and positivity, something that is highly valued by consumers at this time.
How has marketing changed in the COVID era?
However, the reality of the consumer has been suddenly transformed because of the COVID, and in this respect, Carlos Estévez asked the speakers whether brands should continue to link their campaigns to this issue, or whether it is time to turn the page. For Gonzalo Saiz, from Bankinter, brands cannot be unaware of reality. It is vital to be aware of the present moment, although facing it positively. Moreover, consumers are increasingly demanding that brands position themselves for issues that could affect them directly.
Laura Mur, from Codorníu, added that brands are increasingly required to act, not just talk. "It is not a question of political activism, but social activism. We are a part of society and therefore we must take responsibility," confirmed Miguel Justribó from Telepizza. In the current situation, Valeria Conti, from Procter & Gamble, stressed that consumers value their health and personal care more, but are also looking for positive experiences to help them live this moment in the best possible way.
"There is not going to be a return of consumer behaviour to the pre-pandemic era, their expectations have changed and therefore their communication is changing and will keep doing so. The omnichannel approach, the way we communicate with brands, the way we buy has been transformed, and many of these changes are going to be permanent", said Ramiro Sánchez, from Google.
The following two tabs change content below.
Latest posts by Belén Sánchez (see all)