The social strategy of Spotify and fashion brands
Since its launch in 2008 Spotify has changed a lot, but not all of its changes have been well received. However, the platform has been wise to adapt to what clients demanded and expected from it, becoming not only one of the favourite music streaming platforms, but also a social network with a lot of possibilities. Many brands have seen this potential and have decided to include Spotify to their social network strategy.
Advertising vs. social media strategy
Yes, there are ads on Spotify, and they have become increasingly more elaborated, to the point that they have even included video on their ads for their desktop version. One of the main functions of 'Spotify for Brands' is to give advertisers the possibility to segment their audience based on musical preferences and demographical profiles of the 75 million users Spotify has worldwide and this we can inform you in Influencer Marketing Agency NYC of SocialPubli.com. But we are not talking about advertising, but the use of Spotify as a social network.
In 2010 Spotify allowed to link it to a Facebook account, which enabled users to check their friend's profiles and share playlists with them in a more direct way than until now. This is how users began creating a community. The friends were the same as on Facebook, but they were using an app focused on music only, so the conversation always turned around this topic. Spotify soon encouraged this social aspect and added options to follow users and artists, as well as to share music on other platforms like Twitter or Tumblr. Users were delighted, but there was another group of interest who saw potential: brands.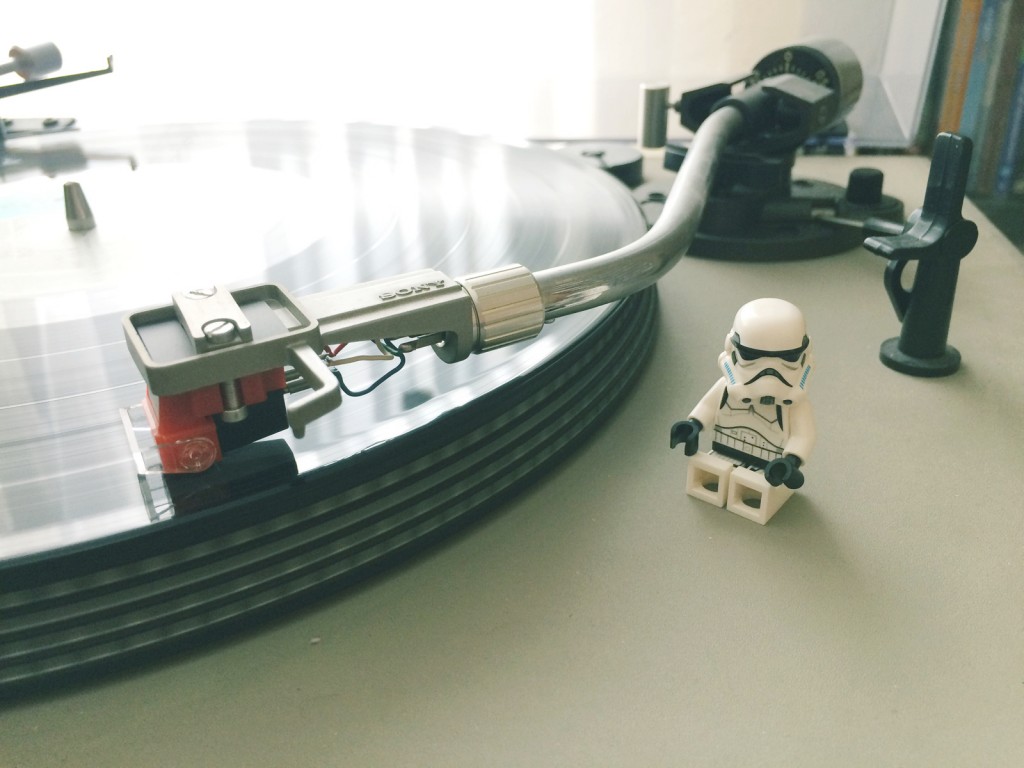 People behind the marketing and social media from many different brands understood that music not only makes people feel at ease, but it creates strong communities. But music can also become part of a corporate identity and a brand image. This is how many companies began to create their official accounts which they announced on their social networks and webs, inviting users to follow them to share the love for music.
In particular, fashion is one of the industries that has succeeded best in understanding and implementing a social strategy via Spotify.
Spotify and fashion brands
If we take for example three big names in the clothing industry: H&M, Pull&Bear y Victoria's Secret, we would say that these three brands have a target which is mostly young, and these brands take care of the music that they play on their stores or on catwalks.
H&M
The energetic and alternative music that H&M played on its stores was so well received that the company decided to take this strength to social networks, creating playlists with this music so that clients could listen to it when they liked, having the name of the brand always present. H&M uploads its playlists from its international account, but they do not promote this crazily – they do not mention their profile on their website. However, they do send the message via social networks:
Discover our H&M Spotify playlist with the latest music from our stores! #HMMusic http://t.co/oboSlpia02

— H&M (@hm) enero 20, 2014
As part of its collaboration with Coachella, they also made a playlist of the festival linking again the folk look of the event to the music. And for the more active ones who buy their sports clothes at H&M, there is a playlist for runners.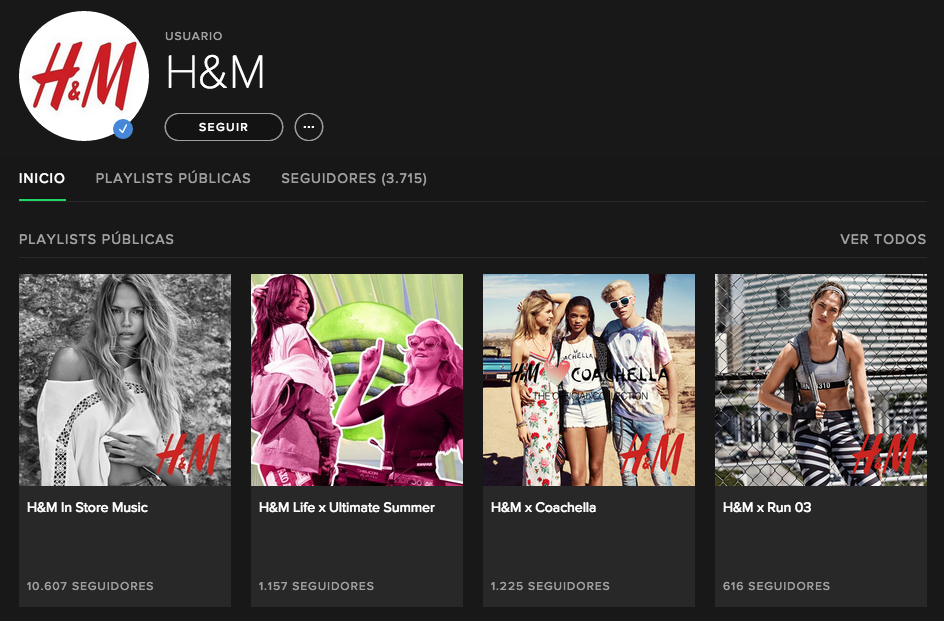 In other words, the Swedish brand focuses its Spotify strategy on creating lists to animate the season's collections.
Pull&Bear
Pull&Bear has made a strong bet on its Spotify strategy going a step further and making collaborations with artists and DJs to create lists. This youngster's brand from Inditex is promoting an indie and alternative look, so it focuses the music on the most underground songs and mixes. It has also created ambiences with lists for different times of the day: quiet mornings, crazy nights…
The brand promotes its love for music on its blog about lifestyle, which demonstrates that Spotify is a key part for its contents strategy and its online identity. For them, music does not just fit with a collection, but it is an integral part of the philosophy they sell.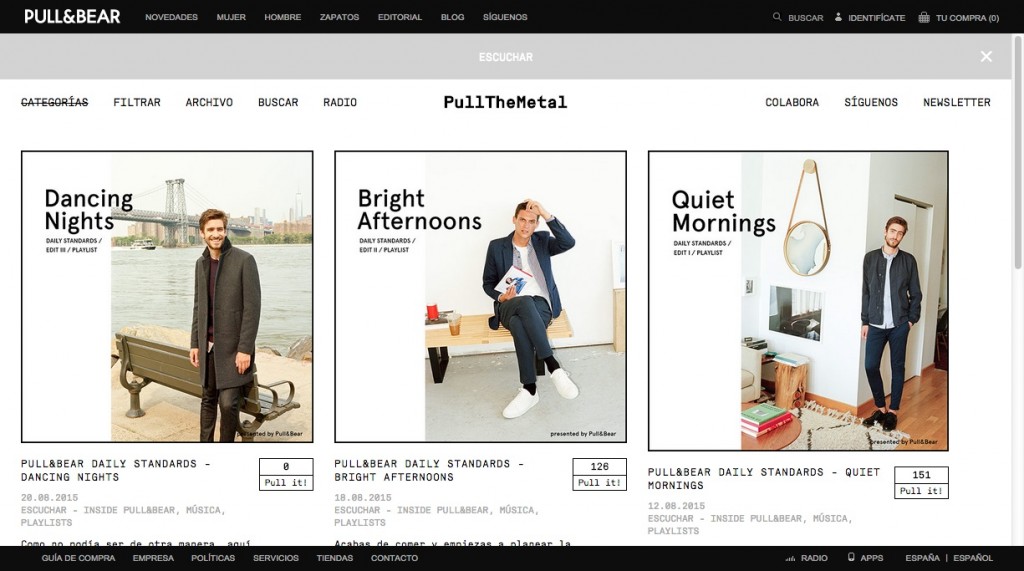 Victoria's Secret
Victoria's Secret's catwalks are a true phenomenon in the world of fashion, and now on social networks too. Everything is commented: the clothes, the setting, and why not, the music. Victoria's Secret opened its Spotify account to cheer up clients with what sounds in their stores, catwalks and also creating playlists for different moods, and they include music to be danced to. Their brand philosophy is very positive and happy, which is why their playlists are an invitation to enjoy the weekend or do some exercise.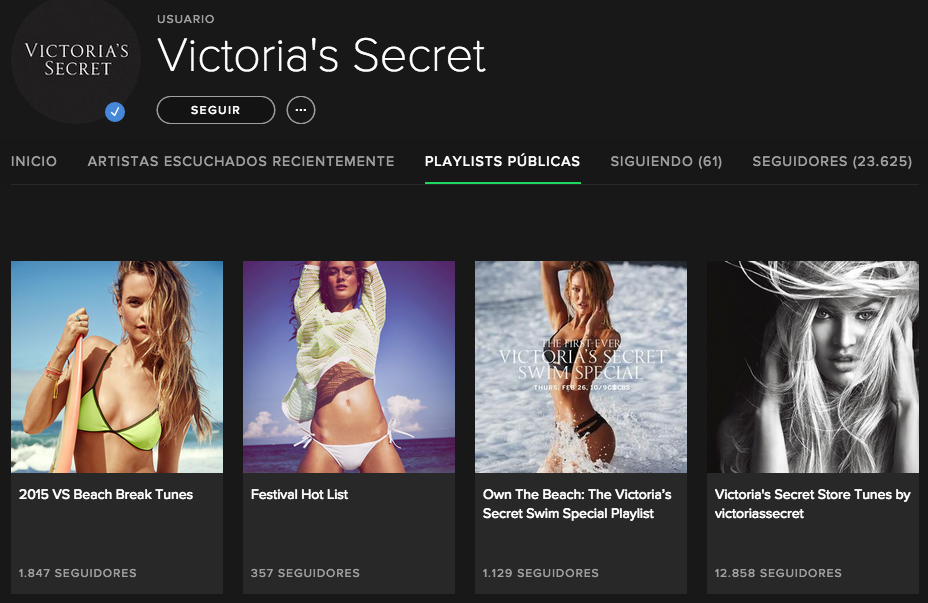 They also have their own DJ that makes mixes for them. With over 23,000 followers and the thousands of subscriptions to its playlists, this is clearly a community that has arisen around music.
It is a fact that music and fashion go hand in hand, especially in the world we live in today. The fast evolution of social networks has made that those who do not update regularly lag behind. But just being there is not enough: planning a strategy that works according with the corporate image and the message that is transmitted on the other networks can give way to creating another platform where users trust a brand to find new content. And in this case, music is a great content.
The following two tabs change content below.
Internet República
Somos una agencia de marketing digital especializada en SEO (posicionamiento en buscadores), gestión de reputación online (ORM), marketing de contenidos y Social Media. Ayudamos a darle visibilidad a tu marca en internet para que consigas, no solo atraer a tus potenciales clientes, sino también fidelizarlos.
Latest posts by Internet República (see all)