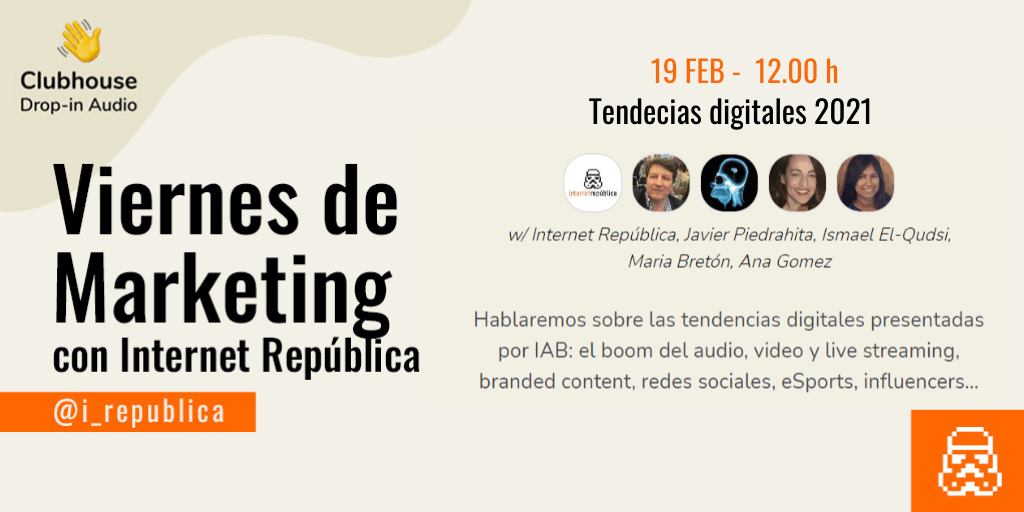 TikTok, Clubhouse and Twitch are set to be the fastest-growing networks in 2021
Hello, community!
On 19 February, we opened our new Clubhouse social network room for the first time. We wanted to ask some of the best marketing experts what the digital trends will be in 2021. The room, moderated by Internet República CEO Ismael El-Qudsi, invited Ana Gómez, Head of Agencies Partnerships on TikTok; María Bretón, Head of Social & Influencer Marketing on GroupM, and Javier Piedrahita , CEO of Marketing Directo as guests. Other speakers included Fátima Martínez, an expert in digital strategy and social media, Albert Fontanals, responsible for Digital Marketing & Social Media of Seat and Cupra Spain.
The success of TikTok
TikTok is one of the social networks that will expand the most in 2021, according to the Digital Trends 2021 report, recently published by the IAB. We had the opportunity to talk about this social network with Ana Gómez, Head of Agencies Partnerships at TikTok, who confirmed that TikTok is a network that is here to stay, although it is still quite unknown to many brands, which believe that TikTok has an audience that is too young. 
However, according to the study "The power of TikTok" conducted by Kantar, more than 73% of TikTok users are over 18 years old, and a large proportion is between 25 and 35 years old. Users spend more than 34 minutes on the app, logging in up to 18 times per channel. 
TikTok is currently undergoing an expansion strategy, in which Spain is a priority country, confirmed Ana, who also highlighted the opportunities it provides for brands to connect with their audience. 
In this regard, Ana talked about generation T – the TikTok generation, which has different behaviours and attitudes. They are creating their subcultures, they go a step further, they are very open-minded, critical and have strong values, and this is shown in the way they share their feelings, and they are highly active. Therefore, Ana stressed the importance of brands being on TikTok to understand these new attitudes and connect better with this generation. 
Among the initiatives launched by TikTok, Ana highlighted the evolution at an educational level with the hashtags #edutok and #aprendecontiktok, which have accumulated millions of views. The network has also created a fund to promote creative talent and give visibility to creators. Now, creators from Spain, the USA, the UK, France, Germany, and Italy can apply for this fund. The criteria for eligibility are to be over 18, have more than 10,000 followers and 10,000 views in the last 30 days. 
Fátima Martínez, an expert in digital strategy and social media, is part of this pool of creators in Spain, publishing marketing tips and advice. Fátima, who also participated in the room, highlighted that TikTok is an opportunity for brands and creators, and that, contrary to what many people believe, many adults are sharing valuable content. 
Among the challenges TikTok faces soon, Ana Gómez highlighted its commitment to e-commerce, with its recent alliance with Shopify to reach new audiences and connect shops to their channel.
Another line they are working on is live streaming. Currently, live streams are in the testing phase and offered only to users with 5,000+ followers; duet formats and options for brands to make ads are also under test. The aim is to evolve from the awareness model to focus more on customers looking to capture leads and maximise ROI. Also, the platform has yet to improve its statistics to provide its partners with more data. They are also testing a feature to moderate comments.
TikTok brand strategy
María Bretón, Head of Social & Influencer Marketing at GroupM, confirmed that for many brands TikTok is still an unknown network and generates insecurity. However, when you provide data on the time users spend on the social network, permanence, views, activity, they become more convinced. 
In this sense, Ana Gómez recommends brands to adapt their content to the social network, in vertical format, videos between 17 and 30 seconds, create an editorial calendar, use hashtags and the most popular sounds. 
Above all, adapt the tone to Tik Tok, be original, creative, and natural. It is also important to see what the competition is doing, read users' comments about the brand and encourage the use of user-generated content. If the reach is amplified with payment, consider collaborations with the creator community.
What are the best hours to post? Ana recommends between 20:00 and 21:00 on weekdays, and between 21:00 and 22:00 on weekends. Regarding the trending topics for 2021, family content such as DIY and crafts and, above all, gaming, will be on trend this year.
The Clubhouse explosion
All the guests showed their enthusiasm for this new social network, although they do not believe that brands should enter yet, as it is very new in Spain and does not yet have a solid user base.
The director of Marketing Directo, Javier Piedrahita, pointed out that as brands are unable to hold physical events, they need to be more present online, but the audience is increasingly dispersed across platforms and networks, which is a big challenge for brands. Ismael El-Qudsi, from Internet República, agrees that brands should not be on all platforms.
María Bretón, from GroupM, believes that for the moment, the best way for a brand to be on Clubhouse is when its employees are there, as they are the best ambassadors a brand can have. Although they are already working on some proposals for food and leisure brands, she believes that if it is already difficult to convince a brand to be on Twitch or TikTok, it is too early for brands to understand how they should act on Clubhouse.
The role of influencers
Due to a recent debate about YouTubers who have moved to Andorra to live to pay fewer taxes and the news of bad practices in advertising by some famous TV personalities, Javier Piedrahita warned that brands should be careful when choosing the influencers that represent them, as these influencers become their voice and users connect with the brand through them. Therefore, avoid controversial people who might put their foot in their mouth or say something inconvenient, and make sure that their followers are real, and their level of engagement is high, because otherwise it would be a failure for the brand.
Albert Fontanals, Head of Digital Marketing and Social Media at Seat and Cupra Spain, pointed out that the main problem in the relationship between influencers and brands is that the legislation of each country is often not in line with the way platforms work. The remuneration model for influencers goes beyond the legislation of each country. For example, 85% of Rubius' audience is from outside of Spain. 
Marketing Trends 2021
In terms of the marketing trends that are going to gain strength in 2021, Fátima Martínez highlighted the explosion of audio, as demonstrated by the rapid success of Clubhouse, the tests that Twitter is developing with Spaces and Facebook's intentions to try something similar, although Fátima doubts that audio will work on any of them. 
As for the top three networks to look out for in 2021, Fatima highlights Twitch, TikTok and Clubhouse. On the other hand, she believes that Instagram is in decline and that Reels is a bad copy of TikTok. She also criticised Instagram's excessive posturing because people are opting for a more natural approach. Another negative point that she sees on Instagram is that it has too much ineffective advertising and barely shows organic posts. 
Albert Fontanals, from Seat, agrees with Fatima about these booming social networks. "Twitch is a reality, with phenomena like Ibai Llanos, who is touching the foundations of conventional television," he said. Albert also stressed that the brand is taking its first steps on TikTok and believes it has great potential. Concerning their digital marketing strategy, although they know that their brand's audience is somewhat older, they have the challenge of using digital channels and social networks to win over a younger target group, so that when they go to buy a car, they already know the brand. "It's not just about generating business, but also about making people fall in love," he says. 
For Javier Piedrahita, the key is to make people fall in love without overdoing it. The director of Marketing Directo recommends going little by little and not filling all the networks with advertising. We need brands that make people fall in love, yes, but with facts. "We want brands to live, to contribute, to help, to be attentive to users. Put the consumer at the centre, use social networks to listen to them and communicate but, above all, fulfil their expectations". 
WhatsApp marketing
Lastly, Ismael El-Qudsi, CEO of Internet República and Socialpubli, highlighted the potential of WhatsApp potential for brands due to its high usage, as 93% of Spaniards use the messaging application. "It is not a social network per se, but Socialpubli is carrying out campaigns with brands on this platform, through micro-influencers who share messages with their contacts. Although it is not yet possible to have exact data because Facebook does not share this information, the effectiveness is remarkably high," he said.
The following two tabs change content below.
Latest posts by Belén Sánchez (see all)