Twitter celebrates its 10th anniversary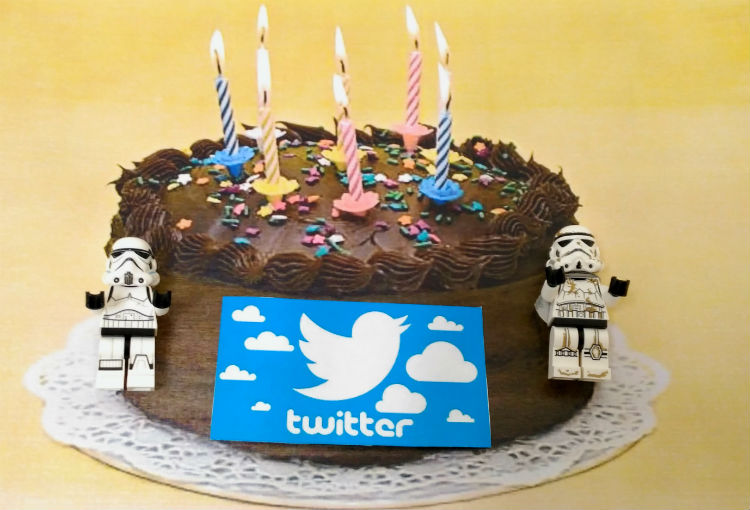 On March 21st, 2006 Twitter saw the light for the first time. It was a quiet start, with a tweet from its founder, Jack Dorsey. His idea was to create a tool for direct communication in which every user could participate and share their ideas and information without barriers.

On his second tweet the founder asked his colleagues to sign up to the social network. Since then, Twitter started to gather pace to become what it is today, a social network with over 320 million active users that generate around 500 million messages every day.
Moreover, the network is offered in a wide range of languages: there are 35 available and it has 35 offices around the world, with its headquarters located in San Francisco.
Did you know that Twitter comes from the sound that birds make? Of course, they tweet! But Twitter's developer, Liam Well, also thought that using this name represented the sound that makes a short and trivial piece of information.
Twitter is a network where everybody from any part of the world is online permanently. It is so successful that many politicians and celebrities created an account to send messages. Barack Obama became one of the first presidents to set up a profile on this social network, and today he is the third most followed person on the planet – 71 million followers.
Twitter records
The Twitter account with most mentions is Justin Bieber's, which had no less than 943 million tweets… But is second to Katy Perry, whose profile is the most followed in the world: as many as 84 million followers.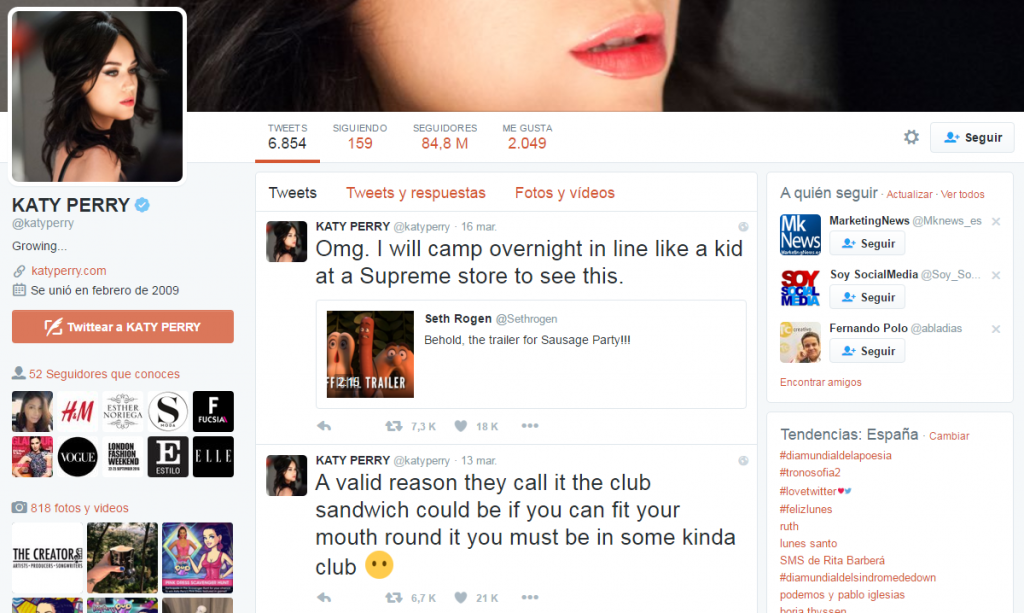 What about Spain? Singers and sport stars rank first. On the first place is Alejandro Sanz, with 13.5 million followers, closely followed by football stars Andrés Iniesta and Gerard Piqué, both counting over 12 million followers.
We love events and even more the quickness that Twitter offers. Social causes have a strong repercussion on the network, but do you know what the most retweeted tweet in history is? With as many as 618,725 tweets per minute, the record went for when Germany won over Argentina during the 2014 World Cup.
Another event that never goes unnoticed on Twitter is the Oscar ceremony. This year it held a record for tweets per minute after the golden statue was given to Leonardo DiCaprio. In 2014 the selfie that presenter Ellen DeGeners tweeted became the most retweeted tweet in history with over 3.3 million shares.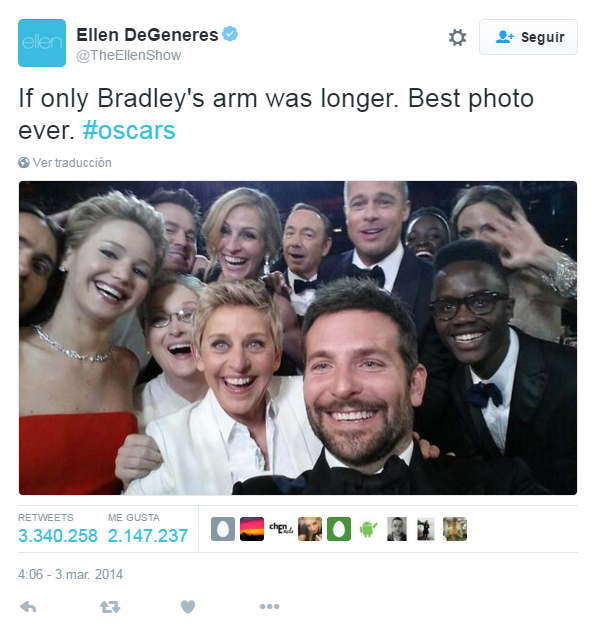 In addition to pictures and videos, on Twitter we can also share the place from which we tweet. Do you guess what the place in the world with most mentions is? Sao Paulo, which has over 638 million tags.
Since its conception, Twitter has gone through a lot of improvements, from the possibility to upload pictures and videos, to promote tweets. The latest news have taken place during the last year, offering its users the possibility to share animated GIFS and with the introduction of an algorithm that tells you what where the most important tweets you missed while you were not there.
This is all what Twitter has been through in the past 10 years, and they have made a video to thank users in which they include their landmarks. Happy Birthday Twitter! 🙂
¡Gracias a ti por estos increíbles 10 años! #LoveTwitter https://t.co/g1hJv2US5N

— Twitter en español (@TwitterEspanol) 20 de marzo de 2016
The following two tabs change content below.
Internet República
Somos una agencia de marketing digital especializada en SEO (posicionamiento en buscadores), gestión de reputación online (ORM), marketing de contenidos y Social Media. Ayudamos a darle visibilidad a tu marca en internet para que consigas, no solo atraer a tus potenciales clientes, sino también fidelizarlos.
Latest posts by Internet República (see all)