Twitter takes action against cyberbullying
Patience has its limits: Twitter has made changes on its privacy policy to protect its users against cyberbullying. This update consists on launching new tools to try to eliminate once and for all the threats of violence and abuse on the platform. The abusers' party is over.
One of the main purposes of Twitter, the second largest social network in the world by registered users, is to promote freedom of expression. The goal is to create a virtual arena that is safe for all users, both to engage with each other and to read and share information that moves away from the discriminatory, the offensive and the violent.
"Our older policy was too limited, and reduced our capacity to act in face of certain kinds of threatening behaviour. The language used now describes better what is included under forbidden content, and our intention is to act when users cross that line."
Vijaya Gadde, General Counsel Twitter
Twitter has identified two key problems. The first of them is related with the kind of content that flows on the platform, and secondly the way to deal with those who do not abide by the policies of the social network. But the blue bird is always on alert, which means that measures have been taken to tackle these problems.
As for the content, Twitter has restricted the publication of content that promotes violence against others. The older version of the abuse policy only affected "direct specific threats", i.e. direct attacks against certain users.
Concerning those who do not abide by the policies, Twitter has a security method consisting of checking the phone number of the user and forcing him or her to delete abusive content. But the update adds the possibility to block an account temporarily if they are showing an abusive behaviour or intent to do so.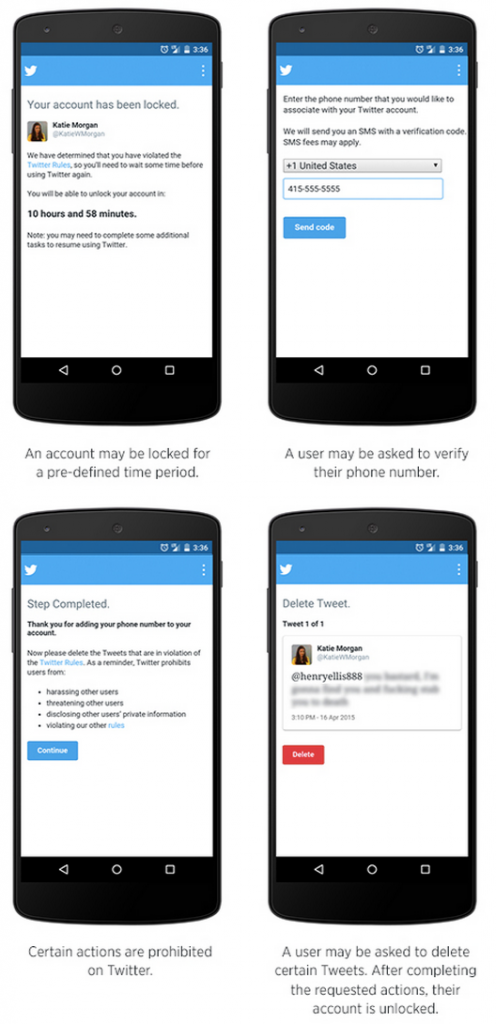 Moreover, Twitter is working with a new tool to identify abusive tweets and messages automatically to prevent them from spreading. The mechanics of this new functionality is based on associating contexts, accounts and terms that have already been reported as abusive in the past.
There are still some details to improve, but this is a leap that will undoubtedly lead to a safer virtual world. May security be with you…
The following two tabs change content below.
Internet República
Somos una agencia de marketing digital especializada en SEO (posicionamiento en buscadores), gestión de reputación online (ORM), marketing de contenidos y Social Media. Ayudamos a darle visibilidad a tu marca en internet para que consigas, no solo atraer a tus potenciales clientes, sino también fidelizarlos.
Latest posts by Internet República (see all)