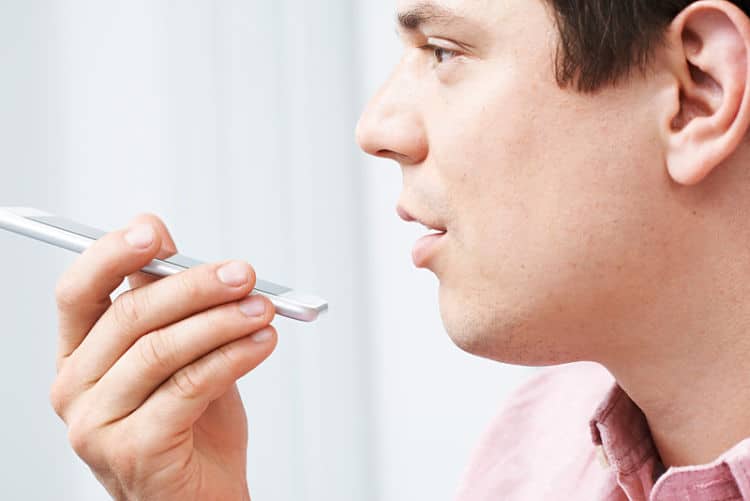 Voice activated searches are coming on strong
SEO is based on a constant updating.  Before, all this was oriented towards desktops.  But suddenly what we call "mobile first" has appeared and now it has changed everything.  Before, we always worked with written searches.  But now these searches can also be spoken.  That is, now the users can query the search engine directly.  
Voice searches aren't new just this year, but what is true is they have now become much more popular, with more than 20% of the searches on mobile devices being done by voice.
The promotion for this is so strong that it is affecting operating systems like Android and iOS, with their Hound or Siri. So much so that people are now beginning to use voice whenever they want to do a Google search.
And why have voice activated searches taken so long to become mainstream?  Embarrassment.  Yes, even though it sounds unbelievable, we are still embarrassed to be seen "talking to a mobile phone" in front of other people.  In fact, a study carried out by Creative Strategies, clarified that 51% of people confessed to talking to their voice activated assistant on their mobile when they were in their car, 31% at home, and only 6% dared to maintain these conversations in public.  And now comes the million-dollar question.
How does this affect organic positioning?
When we do a voice search we change our search habits.  Because we are not using the same vocabulary or way of speaking in voice searches as we would use in a written search.  When we write, we are more concise.  But when we do a voice search, we use more long tail keywords; that is, we are much more expansive, and use expressions which are very different.
This has a major effect on positioning techniques for websites.  As a result, the analytical tools and the creation of keywords are beginning to incorporate more long tail key words, complete questions, etc.
You cannot just position the keywords, but you also have to position the answers to the question that the user will ask using the search engine.  In this way you're able to work with voice searches.  But, be careful!  Don't leave written searches behind, since both work together, and they don't exclude the need for a web positioning strategy.
Perhaps this type of search still may not have a lot of relevance, but it's entirely possible that in the very near future online marketing will have to fully embrace it.
The following two tabs change content below.
Internet República
Somos una agencia de marketing digital especializada en SEO (posicionamiento en buscadores), gestión de reputación online (ORM), marketing de contenidos y Social Media. Ayudamos a darle visibilidad a tu marca en internet para que consigas, no solo atraer a tus potenciales clientes, sino también fidelizarlos.
Latest posts by Internet República (see all)