What is the referral com.google.android.googlequicksearchbox?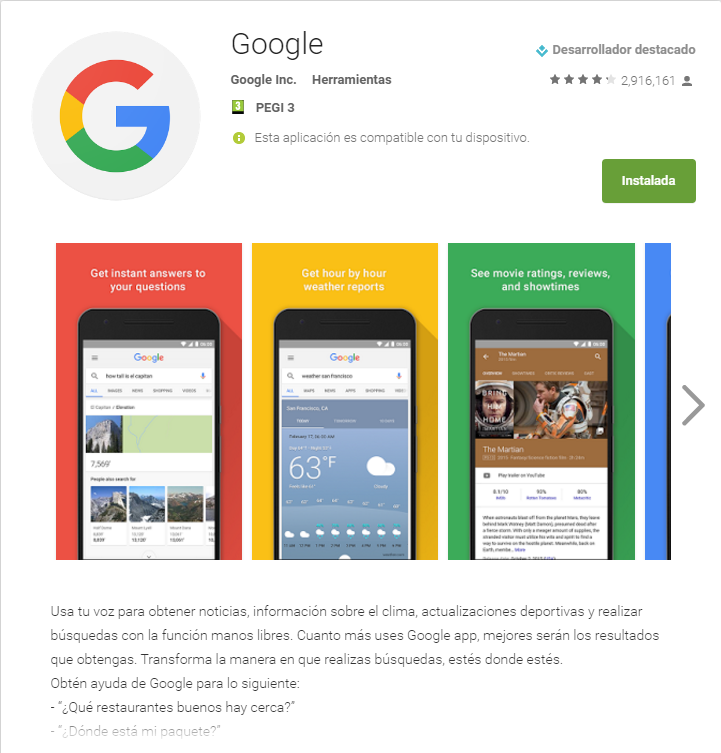 Some days ago we warned about Problems measuring organic traffic from mobile devices as direct traffic, where all the traffic generated from apps to webs (including Google's search page) is catalogued as direct traffic.
This week we have found out that the famous google bar, installed by default in all Android devices, is starting to pass referrer, particularly since April, 26th, with the following URL: com.google.android.googlequicksearchbox, as we can see on this graph from Google Analytics: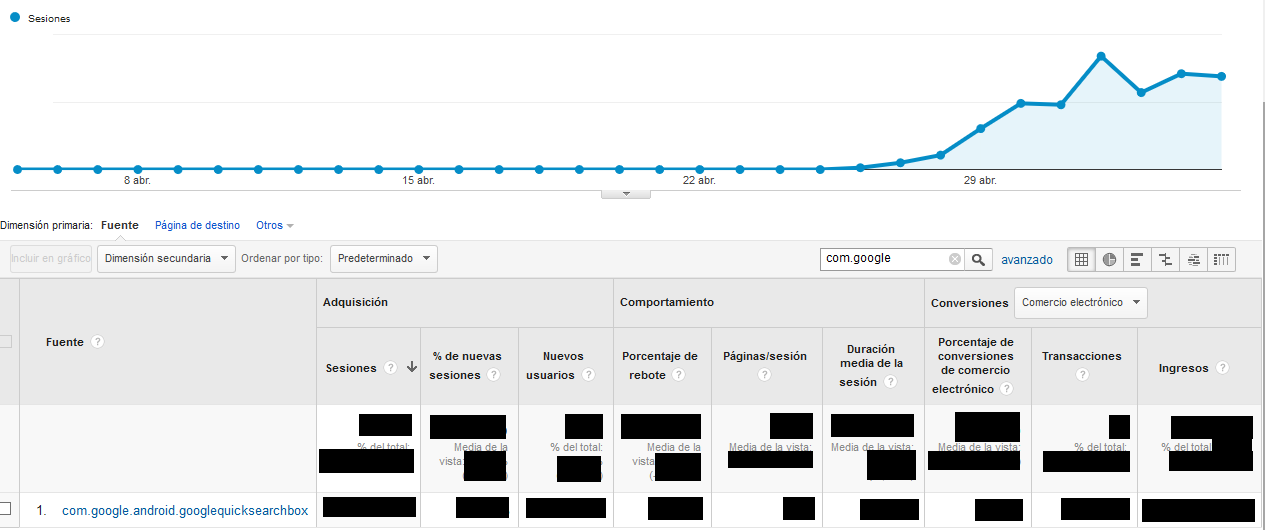 For those who are not familiar with apps deeplinking, the referral that is being passed on is the name of the package given to an app to be published on Google Play, and it is exclusive for each of them. This allows us to measure the mobile traffic better, not only the organic, as it shows that it is possible right now-at least on Android-that apps send a referral when the open a webpage.
In fact, this article by Google Developers, published on November, 4th 2015, shows how to implement this:
https://developers.google.com/app-indexing/android/referrer#extraer-informacin-de-referencia
What comes next?
What we can do is to configure Google Analytics to include this referral as "Organic Search", taking into account that there will also be clicks from AdWords within this traffic, which is a piece of information rather more trustworthy to be catalogued as direct or referral. The apps developers have to implement this functionality to measure their traffic properly, taking into account that they are the most interested parties in that the traffic they generate to webs does not remain in the limbo of direct traffic.
Lastly, we would have to clarify if Search Console is showing in the reports all the data about clicks for this app. If the answer is no-and we are afraid that this is the case, we are losing very valuable information for our projects, as we are talking about devices where this use is experiencing greatest growth, Spain is the EU country with greater penetration of smartphones, and the Android OS is the most used.
The following two tabs change content below.
Internet República
Somos una agencia de marketing digital especializada en SEO (posicionamiento en buscadores), gestión de reputación online (ORM), marketing de contenidos y Social Media. Ayudamos a darle visibilidad a tu marca en internet para que consigas, no solo atraer a tus potenciales clientes, sino también fidelizarlos.
Latest posts by Internet República (see all)