What to do with the social networks of those who pass away
This is a delicate issue, but it is a fact: people die and leave a lot behind. In a time in history when our online self is almost as relevant as our offline self, many relatives of somebody who has died wonder what to do with the profiles that the deceased had on social networks.
The truth is that social networks are already prepared for this, and they have special forms to fill in when relatives want to notify their wish to dismiss a profile.
On Facebook, if we do not have the password, the social network provides a form for relatives to request that the profile is closed down. We have to state what is our relationship with the deceased person and attach the documentation requested. Once sent, Facebook will proceed to disable the profile.
The same happens on Twitter, where we can fill in another form to ask for the disabling of the profile of someone who has passed away. Like on Facebook, we have to indicate the relationship we have with the person and attach ID proof.
Be ready for the worst
Social networks are a reflection of our daily life, which in part means they are an extension of ourselves. With this in mind, the bigger ones have gone a step further to anticipate the worse, offering their users ways to know what will happen with their profiles when we are no longer here to manage them themselves.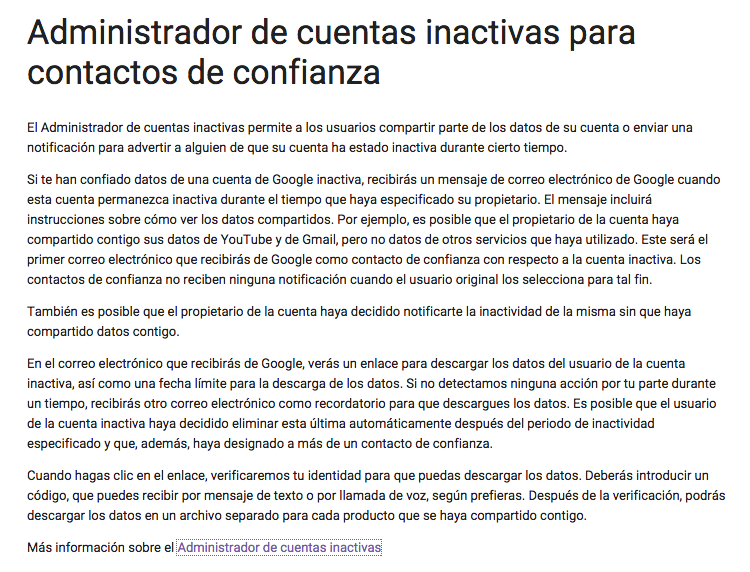 Google offers an Inactive Account manager service. This functionality allows us to designate a trusted contact who will receive a notification if our account has been inactive for a long time. We can also define what kind of information we want the "heir" to download and preserve. This download has an expiry date after which the account and the data are deleted. This function is not only for deceased users, but it is very useful as a locker for our online information.
In this preparation for what comes in the afterlife, Facebook has gone a step further adding the option to designate the contact that will be in charge of our profile the day we are no longer here. This person can download pictures and information, and you can leave the profile for commemorative purposes.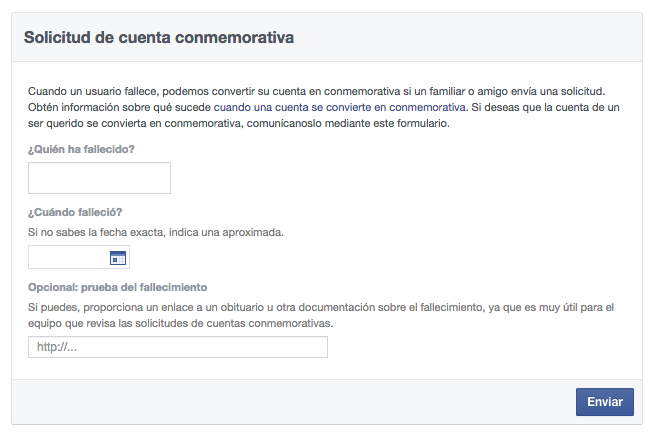 Friends can still post comments and memories of the deceased, but this profile will not appear under friend's suggestions nor accept friendship requests.
Leaving aside the delicate issue or even the macabre nature of it, it does not seem as a bad idea to arrange everything for our online future. We hear a lot about life insurances and wills completely unperturbed. Taking into account that most of our lives is also online, it seems logical to be willing to leave everything ready for the day we are no longer around.
The following two tabs change content below.
Internet República
Somos una agencia de marketing digital especializada en SEO (posicionamiento en buscadores), gestión de reputación online (ORM), marketing de contenidos y Social Media. Ayudamos a darle visibilidad a tu marca en internet para que consigas, no solo atraer a tus potenciales clientes, sino también fidelizarlos.
Latest posts by Internet República (see all)