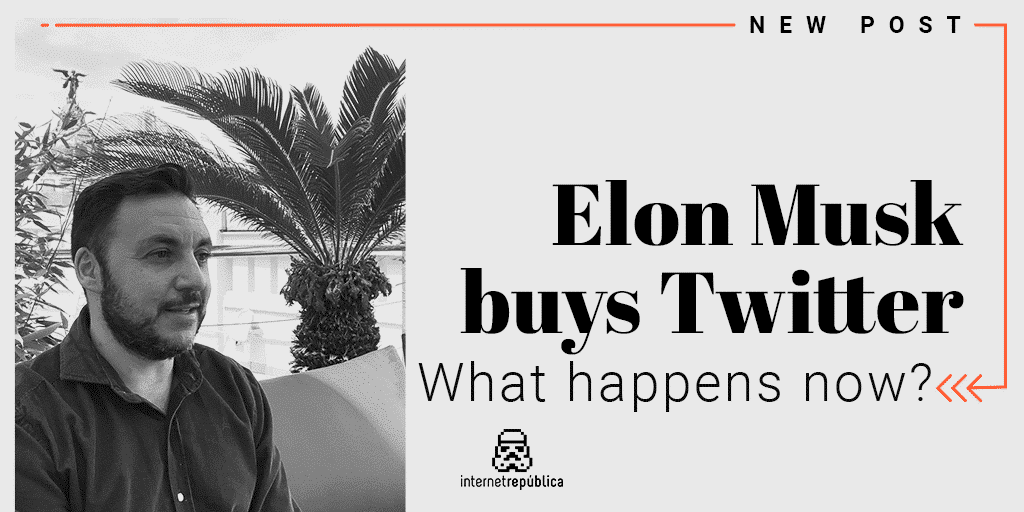 Elon Musk has bought Twitter. What does this mean?
On the 4th of April, Elon Musk acquired 9,2% of Twitter's shares, and suddenly, he became the social network's largest shareholder to date.
Musk owns companies such as SpaceX, Tesla, PayPal, Neuralink, and The Boring Company, and thanks to his investment, it looked like he was also setting out to conquer the world of social media. After the investment, shares rose by 26% on the stock market.
However, there are many who already saw this situation coming since the tycoon has always been an active loyal follower of the social network where nowadays he has 85 million followers.
This is what Musk said on Twitter the day he acquired his 9% stake in Twitter:
Oh hi lol

— Elon Musk (@elonmusk) April 4, 2022
Previously, Elon had already pointed out that the social network had problems respecting the freedom of speech of its users. Twitter removes and expels from the network always for the same reasons: to create a safe and inclusive environment for everyone. This involves the removal of tweets on serious topics that contain false information and posts that incite hatred or violence.
In the last 16 years of Twitter history, many people have been banned from the social network for disagreeing with the safety policy, such as rapper Kanye West, who was blocked in 2020 for 12 hours after sharing a video in which he urinated on one of the Grammy awards he had received. According to him, he was doing so in protest against an issue with his record rights. He was also censored for sharing the phone number of Randall Lane, editor of Forbes magazine, with his followers.
Jair Bolsonaro, president of Brazil, was also censored for encouraging people to take to the streets in the midst of the coronavirus quarantine and was accused of creating misinformation posts that altered the actual facts. His tweets were removed nearly immediately from the platform.
Donald Trump, former US president, was also suspended from Twitter, specifically in January 2021, when he called for violence during the Capitol assault riots.
So, on the 25th of March of 2022, Musk asked users on Twitter whether they actually thought there really was a freedom of speech problem online. He claimed that this was a survey with a lot of value and that the results would have consequences. Here we can see what the public of Twitter answered:
Free speech is essential to a functioning democracy.

Do you believe Twitter rigorously adheres to this principle?

— Elon Musk (@elonmusk) March 25, 2022
The response was loud and clear according to 70% of users who answered: Twitter does not respect the basic principles of freedom of speech. This is why Musk declared that this basic right is an important part of democracy and that something should still be done to preserve it.
Given that Twitter serves as the de facto public town square, failing to adhere to free speech principles fundamentally undermines democracy.

What should be done? https://t.co/aPS9ycji37

— Elon Musk (@elonmusk) March 26, 2022
At this point, it was thought that Elon Musk would join Twitter's board of directors, and try to influence the social network's privacy and security policies, as well as trying to fight fake bot accounts. However, once again, the tycoon had a slightly different plan. On the 14th of April, he launched an offer to acquire the company's entire stock. He even offered a larger amount to show that he was particularly interested in Twitter's potential.
I made an offer https://t.co/VvreuPMeLu

— Elon Musk (@elonmusk) April 14, 2022
And so we arrive on the 25th of April when Elon Musk went from being Twitter's largest shareholder to being the actual owner. Around 44 billion dollars was the total sum agreed by the billionaire.
Is this the beginning of a new era for Twitter? Musk thinks as much.
🚀💫♥️ Yesss!!! ♥️💫🚀 pic.twitter.com/0T9HzUHuh6

— Elon Musk (@elonmusk) April 25, 2022
We wanted to dig deeper into Elon Musk's purchase of Twitter, and our CEO, Ismael El-Qudsi has gladly given us his own assessment of the current situation. 
Ismael, do you think users will change their relationship with Twitter after the change in ownership?
"In the short term, Elon Musk says he's going to focus on eliminating spam (Twitter's main problem right now) and fake users. There are profiles that publish thousands of messages, retweets, etc, and disrupt the conversation. That's what Elon's going to focus on."
"I think Twitter is going to grow in quality, especially in conversations. In recent years, Twitter has lost users because they don't want to be on a site where there's so much hate and sometimes unnecessary controversy."
Do you think Elon Musk will change Twitter's marketing strategies?
"As long as they clean up all the spam and hate crimes taking place on the network, it will go a long way. I think a lot of brands have stopped using Twitter from a marketing point of view because it's dangerous. There's a famous saying on the network: "Twitter is burning right now". A lot of brands unwittingly jump into the controversy by saying something on Twitter that might be misinterpreted, and there are even people who attack you without reason at all. By simply removing the hate there is going on, Twitter would be a better place."
"On a functioning level, Elon Musk is the great innovator of our time. I mean, he's the person who created SpaceX, Tesla, he was at the founding of PayPal, so I think he's someone who can bring a lot to technology, and I think he's one of the few people who can save Twitter." 
"He has my vote of confidence and I suppose we will see what he does with the network."
What do you think the future of Twitter will be like in the medium or long term?
"I think this is entertainment for him, he's a "heavy user", isn't he? Although, he has said that he is doing this to gain freedom of speech on the platform, and he also says that it's the basis of democracy, so without it, we are all a bit more slaves."
"Where can it go from here? Imagination is the limit, I guess. For me, there is only one figure comparable to Elon Musk, and that is Steve Jobs (now that he is dead and everybody worships him), but in the beginning, Steve Jobs was also heavily criticized and now look at how we remember him…"
"Someone who is able to build tunnels, travel to Mars and make fully electric cars… The truth is I hope he does something good, of course. If he continues on the same path, as young as he is, we can look forward to many years of continuous innovation and evolution. He says he wants to make Mars habitable, let's see if he can do it. I hope we'll be there to see it."
– Ismael El-Qudsi, CEO of Internet Republic
(You can check out the full interview right below)
⬇️⬇️⬇️
The following two tabs change content below.
Internet República
Somos una agencia de marketing digital especializada en SEO (posicionamiento en buscadores), gestión de reputación online (ORM), marketing de contenidos y Social Media. Ayudamos a darle visibilidad a tu marca en internet para que consigas, no solo atraer a tus potenciales clientes, sino también fidelizarlos.
Latest posts by Internet República (see all)