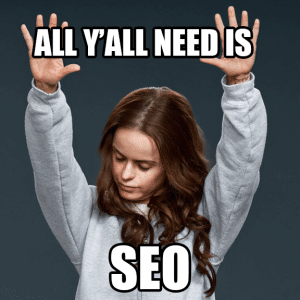 The most important SEO events in Spain
SEO is becoming one of the most important fields within digital marketing. This encourages many professionals and agencies to arrange SEO events where the best professionals meet to share their knowledge and talk about the latest trends in the market.
We tell you today the most important SEO events in Spain.
Seonthebeach (La Manga, Murcia)
We do not want to sound biased, but we are captivated by SEOnthebeach. Whether it is the environment, the time of the year or the quality of the speeches, we think this is one of the best SEO events that are held in Spain.
It takes places at the end of June, in La Manga (Murcia). It is a wonderful place to spend a couple of days learning about SEO with a beer and a refreshing swim in an out-of-ordinary pool. If we have to spend a weekend learning, nowhere is better than by the beach.
Moreover, speakers are picked on Twitter, which ensures a high level for the conferences.
Congreso Web (Zaragoza)
Another renowned SEO event is Congreso Web, which normally takes place at the beginning of June in Zaragoza.
It was one of the first to arrange a conference focused on digital marketing and SEO. It has been so successful that the event has already gone through 6 editions.
Experts talk about marketing, SEO, Social Media, e-Commerce, CRO, SEM and a lot more. This makes of Congreso Web a very intensive event for professionals of online ranking.
Congreso SEO Profesional (Madrid)
Six years ago saw the birth of one of the most famous SEO congresses in Madrid. Congreso SEO Profesional attracts SEO experts to share success stories from customers and agencies, and present the best strategies for online ranking.
This congress is also held in summer, normally at the beginning of July. It is a great opportunity to take a rest and spend a day learning SEO from great professionals.
This event tends to focus on specific markets, which provides a better insight of SEO work in highly competed markets like transport or tourism.
Ensalada SEO (Zaragoza)
This event has been held for two years only. However, it is already a reference for SEO professionals.
The event takes place in Zaragoza in autumn. It has already seen great SEO professionals from all over Spain who have talked about their strategies for online ranking as well as the new trends and changes within digital marketing and SEO.
Zaragoza has become a reference for SEO in Spain. Therefore, a lot of SEO events that we talk about in this article are held here.
Tickets for the event are very affordable, and it lasts for just one day. It is a great opportunity to enjoy a day of SEO training with many marketing professionals.
Evento SEO (Madrid)
Evento SEO is an initiative launched by José Llinares, from Tribal WorldWide, and MJ Cachón, to arrange small SEO meetings in the centre of Madrid throughout several dates around the year. The aim is to chat about news in SEO and share the opinions of experts and attendees.
It usually takes place in Campus de Madrid. It lasts for an hour, after which people normally continue their chatting on one of the nearby bars. SEOs take the opportunity to do co-working as they enjoy a brief pause.
It is a great idea to keep track of what is going on in online ranking, and gather the best SEO professionals after work.
We hope that we can keep attending this SEO meetings to learn from what colleagues have to say, whether it is within the campus or at the bar next door
Clinic SEO (Barcelona)
Another popular annual event is Clinic SEO, in Barcelona. Clinic SEO gathers SEO professionals several times a year to share news and relevant changes in search engine ranking.
You can keep up to date with the dates for the event via their website. Keep an eye on the next editions.
Additionally, you can attend this event in other cities, like Madrid. Clinic SEO also takes place within other marketing events like eShow.
We hope that you find this helpful. Be aware of every SEO event so that you can develop yourself as a professional and share your ideas about online ranking.
You can also attend SEO workshops in digital marketing congresses such as eShow or OMExpo.
Stay tuned with our blog and learn about all the SEO events in Spain.
The following two tabs change content below.
Erik Madsen Fortea
Las personas crean contenidos. Los contenidos crean cultura. La cultura se expande a través de los puentes de la traducción.
Latest posts by Erik Madsen Fortea (see all)