Analysing the social networks of car makes
Presence in social networks is crucial for any brand today. Social media have become the most direct and immediate way of communication with the customer, whether to help him or her, to provide information or to award his or her fidelity.
One of the industries that has joined more these platforms in recent years is car manufacturing. The biggest car makes have secured their presence on social networks by sharing stories about new models, with quizzes and price plans. We have chosen 19 car makes as examples. The criteria to choose them was that their social network profiles linked to their webpages. We have analysed their presence on social networks to better understand their choices, practices and the goals they aim for in social media.
What are the preferred networks?
When choosing which social network to appear on, Facebook, Twitter, Google + and YouTube are the clear winners. The networks where there is the least presence of car makes are those oriented to photography: only Ford and Alfa Romeo are present on Pinterest, whereas 11 car makes are on Instagram compared to 8 that choose not to.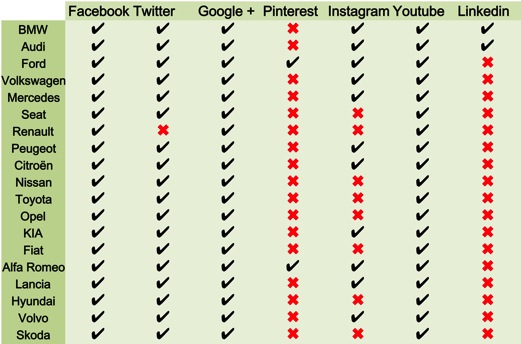 Neither is LinkedIn strong for the cars industry, which prefers to leave the corporate strategy outside of its social media strategy. However, all of them believe in audio-visual presence, with very active accounts on YouTube. Although they all have Google +, most of their profiles are empty – they are just there because you need a Google account to use a YouTube account.
A curious case is Renault, which does not have an official Twitter account for Spain.
The most popular brands
Taking the two most widely used social networks, Facebook y Twitter, this is the data that the aforementioned car makes deliver.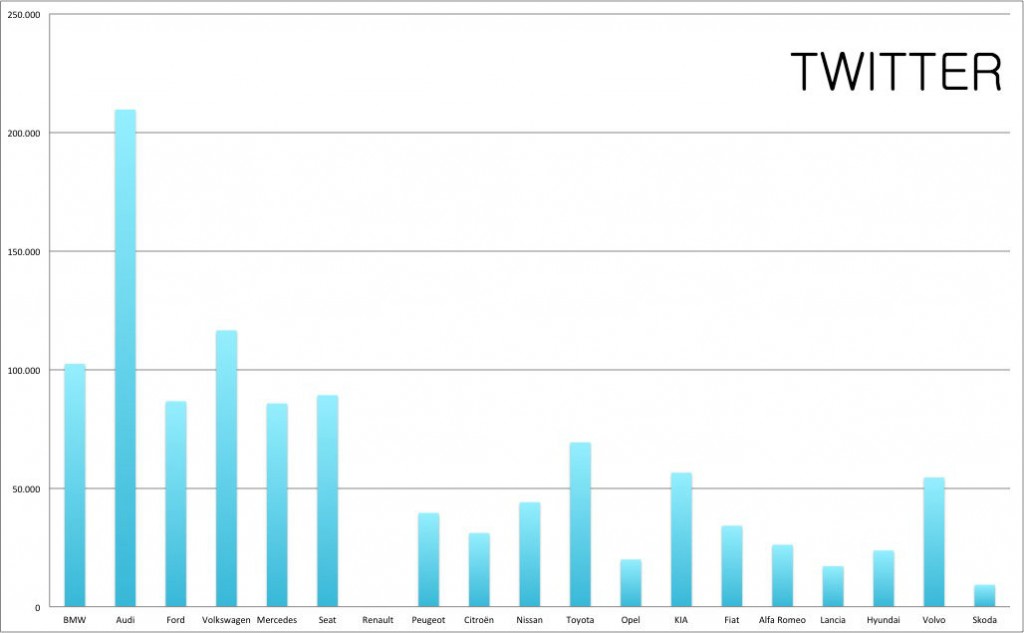 Audi is a clear winner on Twitter in terms of followers, with over 210,000, far from its competitors. The second on the rank is Volkswagen, with 117,000 followers approximately. There is a lot of difference in the number of followers, even between car makes of different types. This makes us think that followers do not depend on the type of car, but on the brand itself and the public that feels identified or attracted by it. The most surprising case is Skoda – its profile is not even one year old and it has not reached 10,000 followers yet.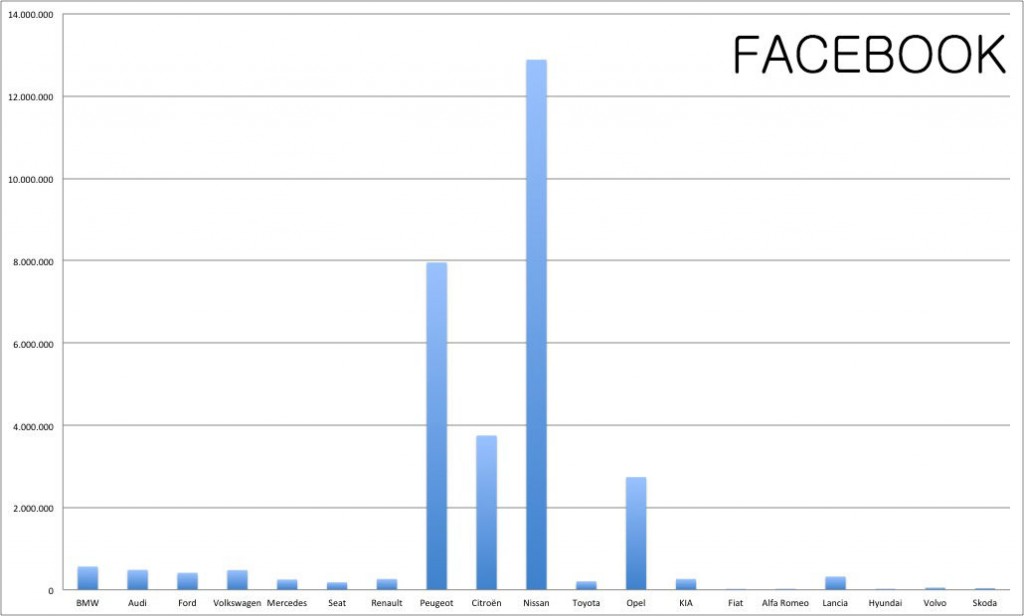 On Facebook there is a different game. By incorporating the pages from different countries, some brands add up to great numbers of "Likes". Nissan, Peugeot, Citroën and Opel have incorporated their respective pages into worldwide ones, addressing Spaniards from pages that add up the Likes they have elsewhere. The other brands have similar statistics, but they have pages exclusively for Spain, which means that the "Likes" come only from a Spanish public.
What kind of content do they share?
In terms of content, car makes all act very similarly: they post news about models, promotions, sponsorships, prizes, advertising campaigns… Pure content about the brand. In general lines they do not interact with the users, and most comments and conversations are between followers themselves.
On networks such as Facebook, most of the car makes have made good use of the timeline function. They post important landmarks for the brand, as well as the presentation of all their models, including the older ones on the year they were put on sale. This helps car makes create a small biography or history of the brand within the Facebook page, which contributes to providing interesting content.
All in all, a decent content with topics that was to be expected, and very little innovation to take advantage of the great number of followers they have in their communities.
The following two tabs change content below.
Internet República
Somos una agencia de marketing digital especializada en SEO (posicionamiento en buscadores), gestión de reputación online (ORM), marketing de contenidos y Social Media. Ayudamos a darle visibilidad a tu marca en internet para que consigas, no solo atraer a tus potenciales clientes, sino también fidelizarlos.
Latest posts by Internet República (see all)