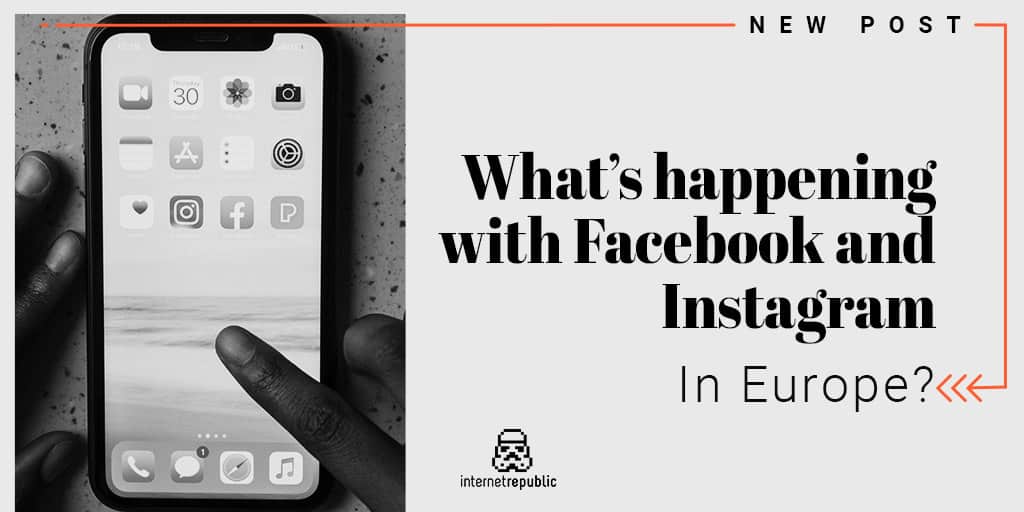 WHAT'S HAPPENING WITH FACEBOOK AND INSTAGRAM IN EUROPE?
Mark Zuckerberg, the owner of Meta and other social networks like Instagram, delivered a 'threat' to Europe in a letter in which he demands the US Securities and Exchange Commission to facilitate the transfer of European citizens' data to the US.
On the first week of February (the 6th), it emerged that Meta might shut down the use of its social networks, Facebook and Instagram, in the geographic territory of the European Union if they did not ease the transfer of data between the two territories.
The company said: "Fundamentally, businesses need clear, global rules to protect transatlantic data flows over the long term […] If a new transatlantic data transfer framework is not adopted and we can no longer use SCCs or other alternative means of transferring data from Europe to the US, it is likely that we will not be able to offer several of our most important products and services, such as Facebook and Instagram, in Europe.
However, the response given by several European ministers has been very different from the one expected by the company. It seems like there is no intention in meeting Zuckerberg's request, the legal framework isn't part of the minister's plans and they aren't afraid of facing the outcome. Both the French and Dutch ministers have pointed out in recent days that "we would live very well" without these services.
With this response, Europe's top officials make it clear that the privacy interests of users will continue to be protected against the demands of the digital giant.
What is the origin of the conflict? 
This fight over data goes back a long way, starting when the European courts cancelled the Privacy Shield and declared that data could not be transferred from European servers to US servers.
This decision was taken because the United States does not guarantee transparency or the level of protection required by the GDPR, a law released by the European Union in 2018 to ensure transparency in the process of collecting user data by companies.
Is Meta bluffing?
And during the same week, Meta released a statement on its website that tried to soften its position on the conflict and pointed out that, "at no time had they tried to threaten or blackmail Europe with its exit from the territory, but rather stated its needs as a technology company."
"We have absolutely no desire to withdraw from Europe; of course not. But the simple reality is that Meta, like many other companies, organisations and services, relies on data transfers between the EU and the US to operate our global services. We are not alone. At least 70 other companies across a wide range of industries, including ten European companies, have also raised the risks associated with data transfers in their earnings statements."
What is clear to us from this struggle between the big technology company and the European institutions is that the latter do not fear the withdrawal of some of the most popular social platforms from the territory. However, what do users think?
"Meta warns it may shut Facebook in Europe but EU leaders say life would be 'very good' without it"https://t.co/V3bzlBo63V pic.twitter.com/9tI39c8NIb

— Renaud「レノー」 (@onirenaud) February 10, 2022
"Can you imagine a Europe without Meta products?" https://t.co/OviWiMKjQp pic.twitter.com/vl7YpiciPf

— philosophaster (@volvicstorm98) February 8, 2022
We will have to wait and see how the events unfold and see who adapts to whom in this tussle of powers.
What do you think? Has Meta tried to threaten Europe, or has it tried to give the United States an impulse to develop new agreements?
Meta's reply ⬇
The following two tabs change content below.
Internet República
Somos una agencia de marketing digital especializada en SEO (posicionamiento en buscadores), gestión de reputación online (ORM), marketing de contenidos y Social Media. Ayudamos a darle visibilidad a tu marca en internet para que consigas, no solo atraer a tus potenciales clientes, sino también fidelizarlos.
Latest posts by Internet República (see all)