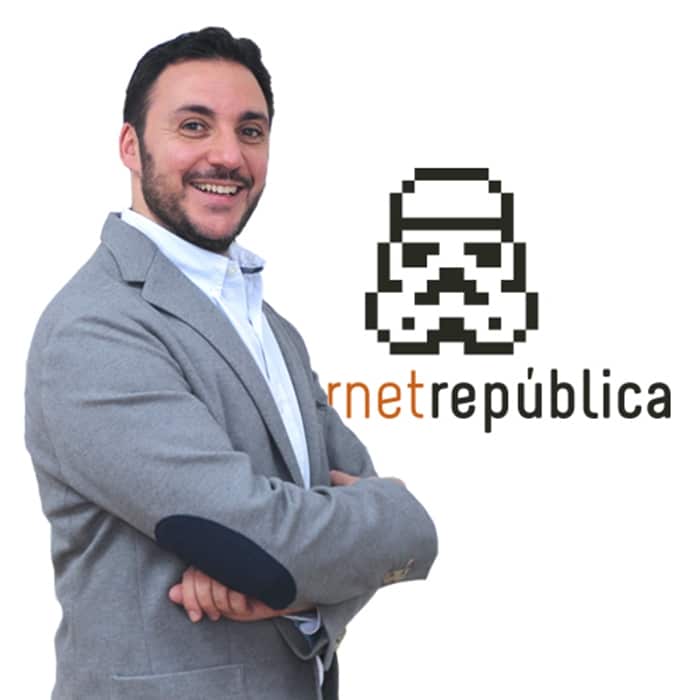 How brands should approach their strategy in 2021 according to Ismael El-Qudsi
Hello, community!
2020 has challenged some of the pillars that brands used to support their digital marketing strategies on. Consumer habits have experienced a profound change in the COVID era, which has accelerated the huge transformation that was already taking place in user behaviour, the strategies to impact them, and the channels to communicate them to. The beginning of the year is the moment to analyse old strategies, discard what no longer produces results and look for new ways to connect with the audience. We asked Ismael El-Qudsi, CEO of Internet Repúbica, for his opinion on where digital marketing is heading in 2021.
– Brands have been forced to make rapid changes to their marketing strategies because of the transformation in our habits during the Covid era. What achievements and mistakes would you highlight in this change of strategy?
– The first thing that many brands have had to change is the choice of media where they advertise. Due to COVID, the consumption of television and the Internet has increased a lot, with other media such as outdoor or cinema being affected for obvious reasons. This means that many brands have had to quickly digitalise and change their media and customer attraction strategy, opting for online marketing.
Taking this digitalisation step seems to be a success to me, and in terms of mistakes, I would highlight the lack of metrics. Many brands have launched a digital strategy but forgot to measure and measure well, so they will find it difficult to calculate the return on their online investment.
« Since the emergence of COVID, we increasingly value committed brands. Transparency is the key. Consumers can tolerate a mistake, but they do not tolerate attempts to fool them».
– Concerning these changes in consumer behaviour, how has our relationship with brands changed? What do we now value the most and what do we reject?
– After the emergence of COVID, one thing we value more and more is committed brands, I would dare to say that we value more those brands with values that demonstrate their values. All things being equal, I would buy a product from a brand that is meaningful to society in some way. Also, speaking of things that are closer to the people, we value brands that respond quickly. The world has changed, and we are now in the era of immediate quality.
Brands that are not consistent, that advertise in a non-credible way or that try to mislead the consumer are what we reject. Transparency is the key. Consumers can tolerate a mistake, but they do not tolerate attempts to fool them.
– Despite the decline in investment, digital marketing and advertising have not been affected as much as other areas. The time we spend searching for products online and interacting on social media has increased significantly in the age of social distancing. What areas would you recommend brands focus their efforts on in 2021 to maintain and strengthen the bond with their audience?
– Digital advertising has not been affected as much because consumers are increasingly shopping online. For example, Walmart increased its e-commerce sales by 97% this year. In this environment, I would highlight the use of influencers, because their followers trust them for a recommendation, and the brands can rely on them to make the product trendy.
– Given the increasing number of strategies and channels of communication with the consumer, what role does and will SEO play in the coming year? What is its unique value that cannot be replaced by any other?
SEO is the channel with the highest return on investment, as good search engine positioning can mean hundreds or thousands of sales per month without paying for advertising. However, SEO is only one piece of the online strategy and the importance of branding cannot be overlooked. In other words, the importance of building and positioning your brand lies in the minds of your potential customers before search engines. The distinguishing value of SEO is the amount of free traffic it can bring to your website.
« SEO is the channel with the highest return on investment, but the importance of branding cannot be ignored».
– We live in the age of over-information, so it is increasingly difficult to get attention. We always say that content is always the most important thing, but… Don't you think there is too much content? Is there still room to make a difference and really reach the consumer? What should a brand's content have to provide real value?
–  There is more and more content, although in different formats. A few years ago, when we talked about content, we spoke directly about texts, and now, especially among the younger generations, the content is audio-visual.
Brands must be relevant and generate content adapted to the media our target audience consumes. For example, if we wanted to reach a 16-year-old audience, it would make sense to use video content created on TikTok, rather than an article in a newspaper. There are more and more opportunities for diversity because there are new formats that are equal to new opportunities, but there is one thing that has not changed over the years, and that is providing value to the consumer. Value can be in creating informative, entertaining and/or useful content. Let's take another practical example that has burst out during the pandemic: brands that generate recipes in different formats or make masterclasses offered by certain chefs accessible to the brand's followers on their social networks. In this case, the content is entertaining, useful for the audience and educational… and there are many other examples like this one. Another branded content that adds value is everything related to solidarity, especially in these tough times. People like brands to get involved and this gives many options to generate content that provides real value because in many cases they are telling the story of how a certain brand has helped a social project.
–  With regard to social networks, the latest figures continue to highlight the dominance of Facebook and its ecosystem, which also includes Whatsapp and Instagram. Will 2021 continue to be the era of Facebook?
– I believe that Facebook is becoming less and less popular. In fact, with Facebook's announcement that it was changing Whatsapp's terms and conditions, many people complained about the invasion of their privacy and have managed to get Facebook to delay the implementation of the new terms of use. In my opinion, privacy will become more and more important, although ironically in social networks we like overexposure, and Instagram is going to be the top social platform for a few more years. Still, keep an eye on Tik Tok and other networks coming from China. 2021 will still be Facebook's but it can't just sit back…
«The important thing is not to "just be there", but to define a clear strategy and focus on the networks that make sense for the audience we are targeting»
– In 2020 we have seen how social networks have become more and more like each other, replicating the most successful features. Instagram launches Reels to compete with Tik Tok, Twitter and LinkedIn launch their own "stories"… Are we reaching a stage where all networks are the same and have the same purpose? What steps should brands take to maintain a clear direction in their social media strategy?
–Of course, social networks are a copy-and-paste of functionalities and that is bad because they create confusion among users and certain boredom. From the point of view of brands, the important thing is not to "just be there", to define a clear strategy and to focus on the networks that make sense for the audience we are targeting. It is better not to have a presence on a social network than to have an abandoned profile, which generates a feeling of lack of attention that a brand cannot afford.
We are not obliged to be on all the networks, and we are not obliged to tell everything that happens to us on the networks, it is a personal choice.
– Despite the prediction that influencer marketing was suffering from symptoms of exhaustion, the reality is that the figures indicate otherwise. According to SocialPubli's 2nd Influencer Advertiser Study, 81% of advertisers plan to maintain or increase their investment of 2020. What is the real value of influencers and how can they complement or boost a brand's strategy at this time?
– In the pandemic many advertisers have discovered themselves following profiles on Instagram or even Tik Tok, making recipes, cakes or doing yoga with them. They have discovered that some influencers create ordinary content but most of them provide value, and that's why they get followers. The most adept brands have achieved great relevance during the pandemic by partnering with these influencers, and it's something they will continue to do. Influencers are really nothing new, influencer marketing is the word-of-mouth marketing of all time, but now it's happening on social networks. It's the trend of the moment.
– Finally, what do you think of the new "Code of Conduct on the use of influencers in advertising" agreed by Autocontrol and the Spanish Association of Advertisers that will start on 1 January? Do you think it is necessary? How do you think it will affect the influencer marketing market? Will this change the relationship that influencers have with brands and their followers?
– As the industry develops, it is logical that advertisers and the public will demand greater transparency. This is not just something that is happening in Spain, countries all over the world are implementing new regulations for the influencer industry, and I think this is a good thing because it has an impact on something basic: honesty.
An honest influencer has no fear in telling their followers that a brand is paying them to give brand recognition. In fact, many celebrities who are doing hidden advertising on their social networks see how many users comment on them, emphasising that they are hiding the hashtag #AD or #Ad to show that it is an advert.
SocialPubli has demonstrated with practical examples that, even if an influencer tags content as advert, people still like and share it if the content is good.
The following two tabs change content below.
Internet República
Somos una agencia de marketing digital especializada en SEO (posicionamiento en buscadores), gestión de reputación online (ORM), marketing de contenidos y Social Media. Ayudamos a darle visibilidad a tu marca en internet para que consigas, no solo atraer a tus potenciales clientes, sino también fidelizarlos.
Latest posts by Internet República (see all)