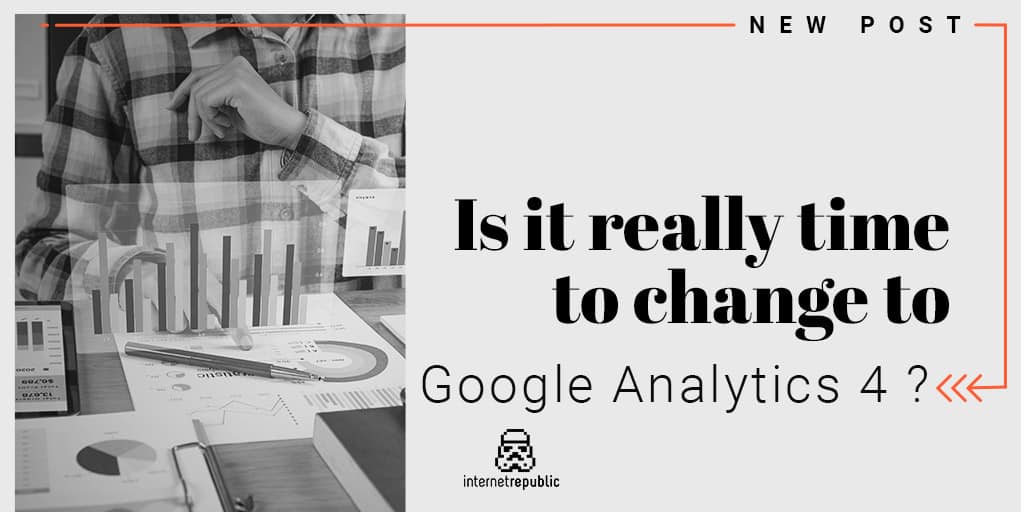 Is it time to move on to Google Analytics 4?
For several months, there has been a lot of talking on whether to migrate or not to Google Analytics 4 (also known as GA4), but the real question that must be asked is WHEN should we take that leap.
Moving on from Universal to GA4 is not only about the style and appearance, but there are also important changes on an interface and data model scale if we compare it to Universal Analytics (GA3). There are more changes, like the multi-device reporting and the integration of Firebase features in order to unify the measurement of Apps and websites.
And right here, and this point, is where the controversy starts. Professionals are reluctant to transfer all their work into this new Analytics update.
The standard edition of Analytics has been among us for 7 years now, a time that usually is excessively long for any tool to go without updates, due to the innumerable changes that have occurred in the digital ecosystem, such as data protection policies, insights and analytics without cookies…
In July 2019, Google announced the launch of the beta of App + Web properties, and that would be the prelude to the official launch of GA4 in 2020. Google Analytics was betting everything on the shift to Web + App properties, a more user-centric system well-designed for this very future we are talking about, one without cookies or identifiers, one that uses intelligent learning algorithms to extract patterns without actually using any personal data and respecting the user's privacy.
The two versions coexist at the moment in harmony, and you can perform double measurements without losing any data. Google is obviously betting on its latest update, GA4, since it will no longer upload any improvements for the Universal Analytics properties edition, and it will probably just devote efforts to its latest version, which right now the company considers to be "the future of Analytics".
Therefore, the answer to our first question is, that indeed, whether you are a technical profile, a marketer or the owner of your company, it would be advisable to start getting to know this new system as soon as possible…since Google is making a big effort to get us to shift from one platform to another.
Since it was launched, they have been perfecting every detail they thought needed improving, and at first it seemed like they were separating the more technical profiles from the purely "marketing" ones; however, recently they have released several report templates to favor the latter and make it easier for them to digest data.
Insights that make your data digestible. Check out a few of our marketing templates from Data Studio → https://t.co/JzdcnuEiEA pic.twitter.com/kokqQHq5hN

— Google Analytics (@googleanalytics) December 27, 2021
Pros and cons of performing this migration:
As for the advantages that GA4 provides us in our work, we find:
One of the most remarkable features is the model that is based on free events, in which you can create your customizable events with any parameters of your choice.
Web + App integration. In GA4 we can measure web and app experiences under the same parameter.
Native connection with Big Query. This is the first step to integrate artificial intelligence in analytics.
Automatic Measurements, which provide you an online and offline view at the same time.
GA4 provides us with the possibility of pattern detection through machine learning.
If we talk about cons,
Universal has been in our lives for so many years now that making this change can seem very complicated and frustrating, as there is no natural way of evolving from one to another.
The metrics change, as for the reports.
GA4 is still in development, so there are some features from the Universal edition that aren't implemented yet, but apparently they will be soon.
All these 'disadvantages' can be summarized as a fear of change or leaving our fear of comfort zone. If we want to evolve, it may be neccessary, sp¡o Google is working on completing its training center offering tutorials, demos, and guides in order to learn how to master the master the tool.
Universal Analytics to Google Analytics 4 Conversion Migration Guide

Migrate your existing goals and conversions from a Universal Analytics property to a Google Analytics 4 property.

Learn how: https://t.co/H2BQgRjndE #measure pic.twitter.com/lYSOmQ8XJr

— Google Analytics (@googleanalytics) October 13, 2021
The key, as we have said before, might be dual implementation, which would allow us to move forward and understand this tool better, while we can carry on using the one we have always used. This way we could learn faster and probably adapt better, and the change wouldn't be so drastic.
The following two tabs change content below.
Internet República
Somos una agencia de marketing digital especializada en SEO (posicionamiento en buscadores), gestión de reputación online (ORM), marketing de contenidos y Social Media. Ayudamos a darle visibilidad a tu marca en internet para que consigas, no solo atraer a tus potenciales clientes, sino también fidelizarlos.
Latest posts by Internet República (see all)