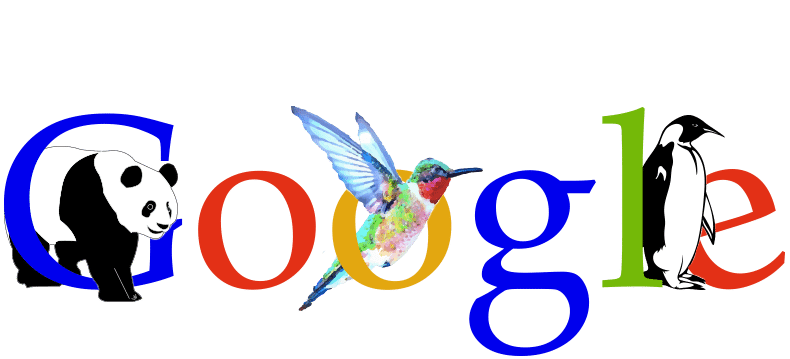 How to escape from a Google Panda or Google Penguin ban
First of all, before you get nervous and raise your hands in the air, to escape from a Google Panda or Google Penguin ban you have to make sure that your traffic has gone down as a result of an actual ban and not due to some fixes in the algorithm that now rate your competitors better. It could also be that you are experiencing a seasonal decrease in traffic, or that some human error when making changes on your web have resulted in this decrease.
To find out whether we are actually banned or not, first of all you have to verify if the traffic affected is organic traffic. If the traffic on that channel remains unaltered, we can rule out a ban from Google. Then, we have to see if there are any messages on Search Console's panel that make reference to a manual ban from the search engine, or if there is any rule in the robots.txt file that we missed out :).
Another important aspect would be to check if the web has had work done in terms of SEO, because, although we can be banned without our noticing and for doing something bad unwillingly-trying to manipulate the ranking, which is deemed to be unethical-, if there is work done in what concerns SEO, you may have done something wrong or something that did not have the desired effect.
If there was some previous SEO work done, we should analyse the steps that took us there and see what has been done to rank the web. This concerns both the onpage and offpage dimensions. Depending on the type of ban, the procedure to solve the problem will be completely different.
Algorithmic ban
Some symptoms that could indicate an algorithmic ban would be:
The web has lost visibility for many of the keywords for which it used to rank.
We can see that many pages have lost their indexing progressively.
When we search for a domain by its full name, it does not show up, or it has even lost its indexing completely.
If we think that we have been banned, we have to get hands on with it and find out, primarily, whether the ban can be related to contents editing or to the links. By this we basically mean bans by Google Panda, which focus on poor content, of bad quality, duplicated or also due to an excess of ads or bans by Google Penguin, related in this case with attempts to manipulate the ranking using artificial links. The first tool we can use to find out what kind of ban we have been subjected to would be Penguin Tool. With this utility you can access your Analytics data where you will see, together with your traffic graph, the different Google updates and check if your downgrade matches any of these.
Ban resulting from content (Google Panda)
If we think that the ban has something to do with the content, we should check the following:
Duplicate content (from other websites or even within our own website). Our website can have duplicate content without our noticing. Having identic webpages under different URLs is enough to have duplicate content. This can happen if e.g. we have URLs with and without parameters that load the same content; it may be that we have used the 'canonical' tag wrongly, or that we are not redirecting to the "original" webpage. We may find duplicates on metatags like 'description' or 'title'.
It could also be that we are indexing URLs that are generated in the web's internal search engine and have the same content, for example. Or we may have duplicity with other sites because we are either copying the content from another web, or because we are publishing content from a third provider that is also supplying other sites (a common trend in affiliates systems). In all these cases mentioned, we should solve it internally by implementing some techniques on the site or redoing all our contents and making them unique.
Another plausible explanation is that somebody is copying our content and is publishing it elsewhere. We can detect this with Copyscape. If you come across this situation, you should first and foremost try to approach, in a formal manner, the web that is copying the content (it may be copying automatically using your feed; deactivating the feed will stop the copying, but it may also be that they are copying using other scraping techniques). In case that you do not succeed after contacting the person responsible, you could report it directly to Google. You can try to contact filling a form or find out the contact data of the other party searching for the domain by using the command "whois."
In the cases when somebody else gets access to your content using some automatic procedure, it may have copied only text, resulting in that the images are being loaded from your own web (hotlinking). Therefore, each time a user visits the other webpage that uses your copied content, it will be using your hosting's bandwidth, something you can detect because your images will get visits. You can avoid hotlinking through the 'htaccess' file, making rules to control the domain's referrer when loading the images.
Poor quality content. Content is king (or this is what they say) and it always has to offer added value to the user. Google now takes more into account the user experience and behaviour when rating a website. If the content is poor, the web has a huge bounce rate or you can see that the content is irrelevant or incomplete, you had better redone it. Ideally, your content should be really unique, hard to find elsewhere. This will make you stand out even more, and it will also help you recover from a ban if it was motivated by poor quality content.
Too many advertisements. If you think that the ads-content ratio of your site is very high, so will Google. Avoid too many advertisements.
Negative SEO. You may be a victim of this kind of technique, which results in a ban.
Ban resulting from links profile (Google Penguin)
If we guess that the ban has to do with incoming links, we should check this:
Have you bought or exchanged links? The network from which you have purchased or exchanged them may have been banned, which in turn means that you are also banned for being linked from this site. Links must be or seem natural. This natural state will come from some features of the links, e.g. from what IPs they come, what topics their domains deal with and what anchor text they are linking to you.
The use of tools that automatically generate content and links. With this we mean not only the variety of tools on the market, but also any kind of script that you have created and that generates content and links automatically. Always avoid patterns: Google dislikes them very, very much.
Your rate of links with an exact anchor are out of ordinary or come mostly from the same or a similar IP. This also indicates that the links were not obtained naturally, which make you cannon fodder for Google Penguin.
Negative SEO. You may be a victim of these techniques and thus have been banned.
To sum up, if Google Penguin has banned you, your links profile will be neither natural nor of quality, and to find out what kind of webpages link to you, you should first and foremost download this information from Search Console and use Excel to classify them so that you can check them one by one. You can request deletion of those links that you find suspicious by trying to contact the domain's owner from where there are being linked. If you do not succeed, request a disabling of links from Search Console. Another option to avoid requesting this disavow, which can at times result messy, is to control the referrer of the domain that links you. In that case, load the 404 headers directly or redirect it to a page that delivers a 404. We can discuss this matter more deeply in another article.
Download the profiles link from Search Console and also a tool like Ahrefs or Majestic so that you can check the links profile and proceed to delete toxic links that are pointing at you.
For both types of ban, whether it comes from Google Panda or Google Penguin, you can ask for the site to be reconsidered if the ban was manual (i.e. you had a message on Search Console). The issue will stay in Google hands, which will check your site personally to see if you do not contravene its rules anymore; then the ban can be removed. If the ban comes from an algorithm, you will have to wait for Google to forgive you the next time that it adjusts the algorithm.
The following two tabs change content below.
Loren Valero
Cuenta la leyenda que
me inicié en el mundo online hace ya unos 14 años
, tras estudiar ingeniería informática en la Universitat Jaume I de Castellón. Por aquel entonces,
el SEO era un concepto propio de la ciencia ficción y la conexión a internet no era posible sin un cable
. A lo largo de mi trayectoria profesional me he atrevido con todo, dando servicio como SEO Manager a RTVE y al Diario AS entre otras compañías.
En mi otra vida debí de ser corrector en un periódico
, porque no se me escapa ni un detalle en lo que a la ortografía se refiere. En "mi tiempo libre" imparto clases en el IEBS de la asignatura "análisis de contenidos para SEO". Puedes seguirme en →
@lorenvalero
Latest posts by Loren Valero (see all)